I've been fortunate enough to review some of the best OLED TVs in 2023, and while at the high-end the likes of LG's G3 OLED are incredibly impressive, if you're looking for one of the Korean OLED-maker's best TVs at a cut of the usual price then here's an Amazon Prime Day superdeal.
Ok, so it's not a 2023 release TV, but I honestly don't think that matters, as I'm talking about the LG C2 OLED, here in its mega 65-inch format, which was a T3 Awards winner back in 2022. Indeed, in our review we called it "the best OLED TV for most people".
And seeing as its replacement, the LG C3, isn't dramatically different, I stand by this older model as being a total steal – especially at this price! I've been looking over CamelCamelCamel, the price tracking site, and this is almost the lowest-ever price the TV has ever been on sale for through Amazon.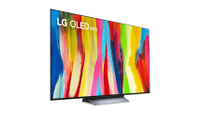 LG C2 OLED 65-inch: was £2,699, now £1,398 at Amazon.co.uk
The best OLED TV of 2022 is still one of the best OLED TVs you can buy, no question. And in this 65-inch format, there's a huge almost half-price discount that makes this panel extra appealing for Amazon Prime Day purchase.
Buying an LG C2 OLED today makes sense for so many reasons. Firstly, the C2 comes with a stand included, unlike the higher-end (and brighter) G series models. That'll make sense for most buyers for sure. Secondly, given how similar the C3 model is from 2023, you're best off saving the cash and buying the older model. If you want a full LG TV range rundown, here's the company's kit for 2023.
That's because the LG C2 OLED is abundant with features: it's got a super-bright panel (not the brightest in the OLED market, but it's not far too), there's HDMI 2.1 on board for high frame-rate gaming, there's great design and, above all else, the picture quality handling is so adept. This is LG's forte and it shows in this panel.
OLED TV panels are so good as they offer unmatched in-image contrast between pixels. This is due to how OLED screens work, with each pixel independently lit and not reliant on a general backlight, as used for example of LED LCD screens. The result of this is areas of bright light can be right next to areas of dark shadow and there will be no light bleed between the two. So OLED TVs are great for displaying low-light environments.
I therefore think this 65-inch version of the LG C2 OLED TV will be ideal for those with large living rooms who've been waiting to upgrade to a big-screen telly. If I didn't already have a 65-inch TV this is the one I'd be looking to buy, given its balance of features to budget... If you're looking for something even cheaper, however, then check out T3's best TVs under £1000 for more inspiration.