We're only halfway through the year, but I'm almost certain the Beats Studio Buds Plus will be my favourite in-ear, noise-cancelling headphones of 2023. I only recently reviewed the tiny buds, but they had a profound effect on me, making me re-evaluate what I'd expect from these types of headphones in this price category. If you like listening to music on the go and are looking for a new pair of buds, this is the deal you need!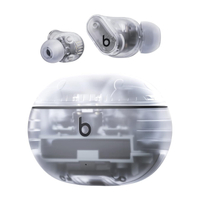 Beats Studio Buds Plus: was $170, now $150 at Amazon
Built on Beats' custom acoustic platform, the Studio Buds Plus provides a fuller sound stage than you'd expect from such small earbuds. Better still, these tiny buds also feature active noise cancellation and transparency mode and can easily connect to both iPhones and Android smartphones.
The Beats Studio Buds Plus are amazingly versatile wireless earbuds with beautifully rounded sound, elevated ANC and Transparency mode performance, a new chip/acoustic platform, longer battery life and a premium build. Beats improved all areas that needed tweaking, including the fit, ANC performance and transparency mode, and left the rest unchanged.
The Studio Buds Plus significantly enhanced battery life without impacting product design (same weight), size (same size), or ergonomics. The battery capacity in both the earbuds and the case is 50% better. As always, the Beats Studio Buds Plus deliver native ecosystem benefits for both Apple and Android customers (i.e. system agnostic).
There is very little – if anything – not to like about the Beats Studio Buds Plus. The earbuds might look almost identical to their predecessor, but the sound performance is elevated, thanks to the improvements in active noise cancellation, microphone and algorithm tweaks, and the updated chip.