When it comes to the best tablets there are plenty of well-qualified (and often rather expensive) options to consider. If you don't have such a big budget, however, then Amazon's range of Fire slates is one of the most obvious go-to purchases to make – and I've spotted a really good one for this year's Prime Big Deal Days sale.
Key among Amazon's 2023 range is the Fire HD 8 tablet which, as the name suggests, is an 8-inch display – and for Amazon's second Prime Day sales of the year, which officially takes place Tuesday 10 and Wednesday 11 October, there's a major price cut. Indeed, the Fire HD 8's 45% off suddenly makes it the lowest price of 2023 so far!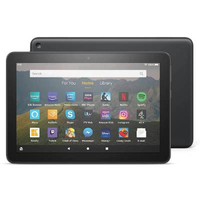 Amazon Fire HD 8: was £99.99, now £54.99 at Amazon.co.uk
Bettering the asking price of the last Prime Day sale in the summer, Amazon's 8-inch Fire HD tablet is a great option for yourself, the kids, of the whole family. There are parental controls, and while the software has some restrictions, if you want to use this tablet for browsing and catching-up on shows it's a great budget option.
As said in T3's review: "If you want a tablet for basic tasks, such as watching Netflix, listening to music, using Alexa, making video calls, checking emails or using social media, the Fire HD 8 will do the job well. You'll have to compromise a little on video resolution and processing speed, you can't run all Google apps, and it's not much good for photography or productivity tasks but overall, it offers excellent value."
That's the thing to keep in mind with Amazon's Fire range: while they use a Google Android base operating system, it's adapted, including restrictions, so it's not like getting hold of one of the best tablets from Samsung, and not as free and open as one of the best iPads (but Apple's slates cost a whole bunch of cash more).
I still think the Fire HD 8 represents great value for money, especially at this price, so long as you know what the pros and cons are for such a product. Interestingly the outside-of-Amazon sales competition is strong, too, with some UK retailers offering it for even less, as you can see in the real-time shopping widget below. Nice!