One of the best deals of the Amazon Prime Day sales is back! Amazon continues to slash the prices of its Fire TV models.
There's up to £320 off Amazon Fire TV 2-Series, 4-Series. and Omni QLED sets, even though they were only recently released. And the money-off extends across all screen sizes.
In the UK, prices start at £179.99 for the 32-inch 2-Series model. It's usually £249.99, so has a great 28% off. It's quite a bargain at that price, that's for sure.
The 40-inch 2-Series is also reduced and now priced at £229.99, while the step-up 4-Series televisions start at £279.99 for the 43-inch model (it's usually £429.99).
The biggest discount is on the 65-inch Amazon Fire TV Omni QLED model - you'll save £320 on it right now, with the price just £679.99 (normally £999.99).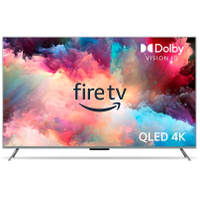 Amazon Fire TV 65-inch Omni QLED series: was £999.99, now £679.99 at Amazon
Get a mammoth 32% off Amazon's top-of-the-range 65-inch Omni series Fire TV. The 4K HDR (Dolby Vision IQ) set uses QLED technology for incredible pictures.
Those in the US also get their own incredible deals on the entire Amazon TV range, so check those out too if you're in the region.
Why choose an Amazon Fire TV 2-Series, 4-Series or Omni series?
There have (and continue to be) several manufacturers that make Amazon Fire TV sets - televisions that run on Amazon's operating system and have Alexa built-in. However, Amazon recently decided it wanted to also range its own-brand TVs, so launched a trio of models - the 2-Series, 4-Series and Omni QLED lineup.
The Amazon Fire TV 2-Series comes in smaller screen sizes - 32- and 40-inches - and are 720p and 1080p sets respectively. They support HDR10 and HLG, and you can use voice interactivity via the included remote control.
The Amazon Fire TV 4-Series is available in 43-, 50- and 55-inch screen sizes in the UK (there's a 65-inch model too in the States). They are all 4K models and also support HDR10 and HLG. HDMI eARC is also on board to connect to a compatible soundbar or sound system.
The third TV line from Amazon, the Omni QLED series. steps up the range further by using Quantum Dot technology for even deeper, more involving pictures and wider HDR support.