Amazon might not kick off its official Black Friday sale until Friday 17 November 2023, but it's already offering some incredible bargains in the build-up – especially on its own devices.
The cute and compact Amazon Echo Pop smart speaker is one such product that has been heavily discounted in an early Black Friday deal. And, not only is it cheaper than the usual retail price, you get a second for free plus a Philips Hue smart bulb.
Alternatively, you can opt for a Meross Smart Plug as the additional device. Either way, as the bundle is priced at just £39.98, it represents an incredible offer. The Echo Pop is usually £44.99 on its own.
See Amazon's early Black Friday deals
The deal is available in three of the Echo Pop colours – Charcoal, Glacier White and Lavender Bloom.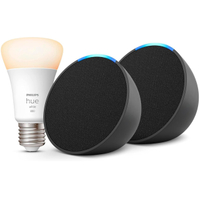 Amazon Echo Pop 2-pack with E27 Hue White Bulb: was £103.97, now £39.98 at Amazon
Get an Amazon Echo Pop smart speaker, plus another and a Philips Hue E27 (screw fit) smart bulb for less than the price of an Echo Pop on its own. Amazing.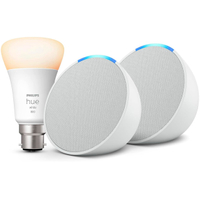 Amazon Echo Pop 2-pack with B22 Hue White Bulb: was £103.97, now £39.98 at Amazon
You can get the Echo Pop 2-pack deal with the bayonet fit (B22) version of the Philips Hue smart white bulb too.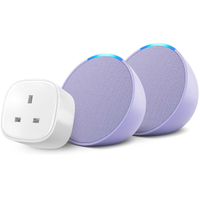 Amazon Echo Pop 2-pack with Meross Smart Plug: was £108.97, now £39.98 at Amazon
If you don't need Philips Hue lighting in your home, a Meross Smart Plug could be an ideal solution to automate a regular device or appliance. It's inclusion in this pack with the two Echo Pops represents even greater value for money.
There's one more deal worth considering... especially if you're not bothered by the smart lighting or plug. Amazon is offering two Echo Pop devices for the price of one – £34.98. You just need to add two of whichever colour you fancy to your basket and enter the promo code ECHOPOP at checkout.
Get 2 Echo Pop smart speakers for less than the price of 1: was £89.98, now £34.98 at Amazon
Just add two Echo Pop speakers to your Amazon basket in whatever colours you choose (Charcoal, Glacier White or Lavender Bloom) and enter the code ECHOPOP at checkout to get one free.
Why buy the Amazon Echo Pop
Launched earlier this year, the Amazon Echo Pop is a compact, fun way of adding Amazon's Alexa smart assistant to your home – or in another room.
It has a decent speaker inside too, so call fill a small room with music. You can even use the Echo Pop as an Eero extender if you have the mesh network system.
Amazon has also got some great early Black Friday deals on other devices, including its 2-Series, 4-Series and Omni QLED Fire TV sets.
And check out our guide to all of Amazon's Black Friday activities – it could save you a bundle on, well, a bundle.