January is the time we all start thinking about getting fitter and healthier. But we say, why wait until then? Especially when Decathlon has slashed the price of this top-notch treadmill in an early Black Friday deal with a very decent 43% off.
Treadmills are expensive pieces of equipment and cheap treadmills don't come around often, so the fact this one is now less than £500 is an absolute steal in our opinion. The other great thing about this particular model is it's also a folding treadmill so, while it will still require a decent amount of space, it is a lot more compact than a regular one and won't take up as much.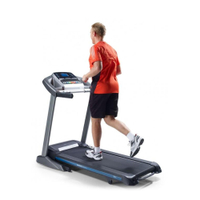 Horizon T11 Treadmill: was £800, now £449.99
Save 43% (that's just over £350) on this foldaway treadmill. It's easy to use, comes with pre-set workouts and the IdealZone cushioning means moving on this is gentle on your joints.
Whether you're trying to get your daily steps in or are keen to learn to run, a treadmill is a great piece of home gym equipment, that will also improve your cardiovascular health and can help you lose weight. The T11 ranges from 1-17 km/h in speed, so around 10mph. It also goes up to a 10% incline, offering plenty of range for beginners. However, those who like more gruelling runs may want to opt for one that goes up higher. There's seven pre-set workout programmes for you too and the IdealZone cushioning system means moving on this treadmill is more gentle on your joints.