If you're in the market for doubling the storage of your PlayStation 5 console then I've been scouring Amazon for the Best Prime Day Deals 2023 and have found an absolute steal. The WD_Black SN850X SSD, which offers 1TB storage plus a heatsink (so it's perfect for PlayStation 5), has a massive 61% off the list price.
This SSD has won some serious kudos among its buyers, with Amazon-verified users scoring it the full 5-star treatment on average, with almost 14,000 independent buyers giving it the full marks. It's long sat at the top of T3's Best PS5 SSD buying guide, too, it's just that well regarded.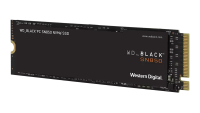 WD_Black SN850X with Heatsink (1TB): was $179.99, now $69.99 at Amazon
A staple choice among PlayStation fans looking for an effective and trustworthy way to expand their on-board console storage. This massive price reduction is hugely appealing, the speed is more than the PS5 needs, and the heatsink is built-in to make for a super-easy install that'll ensure your console won't ever overheat.
I've also installed a WD_Black SSD into my own PS5 (here's my step-by-step picture guide) where it's made my life so much better thanks to all that added space. I find it impressive how rapidly the pricing has come down for decent sizes of drives that are up to speed (literally, as Sony required 7,000MB/s or greater) for the job. You will need a Philips PH1 screwdriver, though, so don't forget to order one of those too.
The price reduction is certainly major, and I've been checking out the WD_Black drive on CamelCamelCamel, the price tracking site, and it's dropped by a massive $110 overall. Interestingly, however, in this month the price has fluctuated plus/minus an extra $10. I still think it's a great deal, though, whether buying at $69.99 or $59.99.
Once you've nabbed the drive and installed it, check out T3's Best PS5 Games for Prime Day 2023, where I highlight five favorites; then take a browse through the Best Prime Day Gaming Deals 2023, too, where the team highlights headsets, consoles, accessories, and more. There's something for everyone this Prime Day...