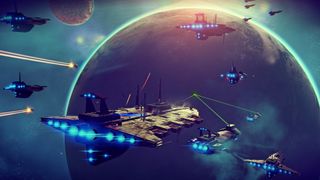 Introduction
2015 was a landmark year in gaming and the next twelve months have got a whole lot to live up to. But there are a host of titles coming out in 2016 which are sure to deliver the sort of experiences we've all been desperate for.
While most of the big properties of 2016 are going to be multi-platform releases, Sony has upped its own exclusives game, bringing out huge titles like Uncharted 4 and the Last Guardian as total PlayStation 4 exclusives. It's also got a console exclusive with No Man's Sky. Microsoft still has its fingers stuck firmly in the exclusive pie though, with Max Payne devs, Remedy, releasing the Xbox One-only Quantum Break this year.
The PC has its own jealously guarded treasures too. As well as joining the PS4 in thumbing its nose at the Xbox with Street Fighter V and No Man's Sky, it's also got the compulsive next installment of the XCOM saga and the super-exciting Star Citizen all to itself.
So, whether it's classic franchises rebooted for a new audience, massive sequels or brand new IPs, there will be something for everyone.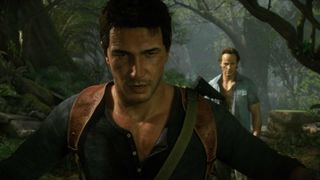 Uncharted 4: A Thief's End
Drake's final adventure
Platforms: PS4
Release: March 18th
The final installment of the beloved Uncharted series will be the last time we see Nathan Drake, but we're positive this is going to be an absolutely outstanding swansong for the adventure series.
It's also a slightly different, expanded take on the genre too, offering dialogue trees within the game and a massively expanded multiplayer mode too. Riffing off the mystical artifacts our Nathan comes across in his travels, you'll be able to really put the hex on your opponents online.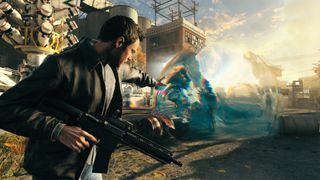 Quantum Break
Live-action shenanigans mixed with temporal gaming
Platforms: Xbox One
Release: April 5th
Coming from the developers who brought you the mighty Max Payne and the massively delayed, and not-a-little-disappointing Alan Wake, comes Quantum Break. The new IP from Remedy takes the Max Payne's bullet time to its logical conclusion with protagonist Jack Joyce able to both freeze and speed up time during the bullet ballet.
In a bizarre twist though Remedy has also shot a feature film worth of live action footage with Aiden Gillen (and his changing accents) and Dominic Monaghan. They will play out as cutscenes depending on the branching storyline of the game.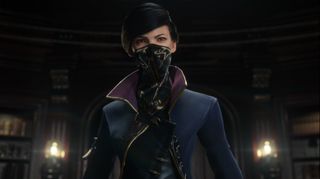 Dishonored 2
C'mon Corvo, it's time to jump back into action
Platforms: PC / Xbox One / PS4
Release: Spring 2016
The sequel to one of 2012's biggest games, Dishonored 2, puts you back in the shoes of supernatural assassin Corvo as he strives to save Dunwall from an otherworldly usurper. But this time you're not just looking through his eyes, you can also play as Emily Kaldwin, the unseated Empress, with her own unique set of abilities.
Transported from the Victorian steampunk streets of Dunwall to the mysterious city of Karnaca you must stealth-kill your way to putting the rightful Empress back on her throne.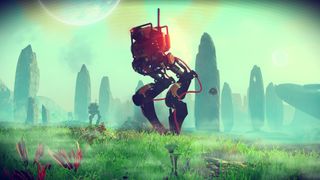 No Man's Sky
Five billion game years. And you thought The Witcher 3 was big...
Platforms: PC / PS4
Release: June
We've been waiting a while for this stunning-looking space romp to take its final form, but we'll finally be able to get to grips with No Man's Sky in mid 2016. Reports have it that to visit each of the procedurally-generated planets in the game's universe it would take some five billion years...now that's one hell of a sandbox.
There is a driving plot to the game, but it's the almost infinite possibilities the huge universe offers which makes this game such a tantalising prospect - even more so that it's going to fit on the PlayStation 4. Please let them make it PlayStation VR compatible too.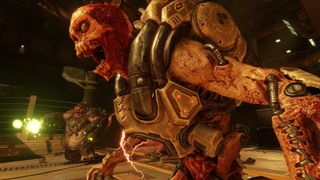 Doom
Back to the old-school
Platforms: PC / PS4 / Xbox One
Release: Spring 2016
The game that launched a thousand imitators, and practically a whole new genre in the first-person shooter, Doom returns this year. It's hard to believe that it's been more than a decade since Doom 3, but id Software is bringing the game back to its roots. As such expect all your favourites to return - and obviously those favourites are your big frickin' guns and oodles of gore as well as a hellish host of demonic foe to slaughter. Doom 4 is also offering the chance to get up close and personal with melee combat, so relish those chainsaw attacks.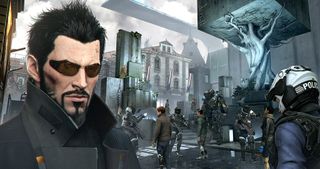 Deus Ex: Mankind Divided
Team Jensen, world police.
Platforms: PC / PS4 / Xbox One
Release: August 23rd
The original Deus Ex was one of the most beloved of PC shooters, mostly for the fact that it was so much smarter than the wealth of Doom clones which preceded it. The 2011 reboot, Human Revolution, wasn't quite as smart as most fans desired, but Mankind Divided promises far more player choice this time around. There's even the promise of being able to play the entire game through using only non-lethal takedowns. Perfect for the pacifists out there among you.
Though with our Adam Jensen battling rogue augmented humans for an international police force you can bet it's going to be trickynot killing people...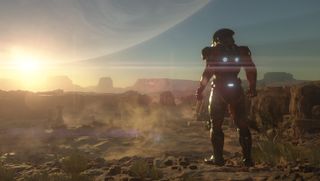 Mass Effect: Andromeda
The flock now lacking a Shepard
Platforms: PC / PS4 / Xbox One
Release: Winter 2016
The Mass Effect trilogy may be complete, and with it the adventures of the our Commander Shepard, but the show must go on. With Mass Effect: Andromeda we'll have ourselves a whole new cast and crew, with a new main protagonist. There are few real details to go on as yet, but Bioware is promising exploration will be key and with that will come the return of the Mako planetary vehicle.
We've been itching to get back out into the inky blackness since the curtain closed on the first Mass Effect trilogy, and we have faith that Bioware will serve up another sci-fi treat.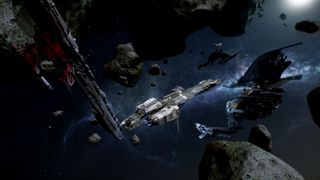 Star Citizen / Squadron 42
Mark Hamill. In space. How can you not be excited?
Platforms: PC
Release: 2016
The crowd-funding smash-hit, Star Citizen, will find itself with a proper release this year and we should get both the persistent, Elite-esque, universe as well as the Squadron 42 single-player campaign. And as the spiritual successor to the classic Wing Commander games it's got quite the all-star cast, featuring not only Luke Skywalker himself, Mark Hamill, but also Gary Oldman.
There's a whole lot of space gamery going down this year, but Star Citizen promises to be the biggest, most beautiful and feature-packed game the world has ever seen. So long as it can live up to its own hype.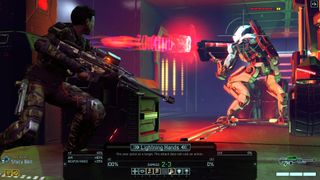 XCOM 2
It's time to take back our planet
Platforms: PC, Mac
Release: February 5th
The tables have turned and the Earth is in the hands of the alien overlords - now it's up to the XCOM team to be the insurgent force, battling to kick out the invaders against frightening odds. Turn-based strategy games may not be everyone's cup of tea, but the accessible, challenging, compulsive action of the most recent XCOM game made it a winning combination.
Developer Firaxis has been listening long and hard to the XCOM community and this sequel is set to bring requested features such as modding support and procedurally generated levels.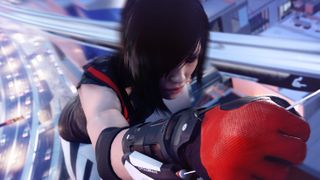 Mirror's Edge Catalyst
About time we all had a little more Faith
Platforms: PC / PS4 / Xbox One
Release: May 26th
It's been a long time coming for us to get back into the running shoes of Faith, the daring protagonist of the original Mirror's Edge. By the time Mirror's Edge Catalyst hits our games machines it will have been eight long years since we got our first taste of the vertiginous first person parkour stylings of DICE's cult classic.
Free-running is the name of the game and boy, is it free. The cityscape is huge and open, allowing complete freedom of movement around it, without the artificial constraints of the first game. DICE has also removed gunplay from this sequel too; though the enemy may have the odd boomstick our Faith is better than that - she won't even pick them up. Which is good as the shooty parts of the original were some of its worst moments.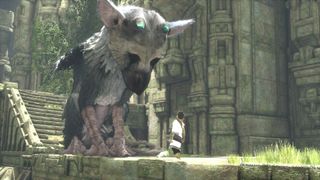 The best of the rest
There are many others that didn't quite make the cut for our top ten list, but here are some of the other exciting new games on their way in 2016.
It's going to be a bumper year.
Street Fighter V - February 16th
Far Cry Primal - February 23rd
Tom Clancy's The Division - March 8th
Hitman - March 11th
Dark Souls III - April 12th
Horizon: Zero Dawn - TBA
The Last Guardian - TBA