Amazon Prime Day is here – finally! We hope you're having fun browsing the hundreds of fantastic deals that are on offer. You may have bought one or two, who knows? Well, let us tell you about another incredible offer we've stumbled across...
You might also know that using an electric toothbrush removes twice as much plaque as using a manual one. Yes, electric toothbrushes are a little more expensive than your average toothbrush, but the results are undeniably worth it. You can have a read why in our best electric toothbrush and best water flosser guides!
Whether you're looking for a new electric toothbrush or we've managed to convince you that you absolutely and wholeheartedly must have one, then look no further. Oral-B have just released huge discounts across most of their range.
Oral-B Smart 6 Electric Toothbrush
It begins with the Oral-B Smart 6 Electric Toothbrush. Now, this isn't one of their most recent additions to the range, but it's the one electric toothbrush that has the best deal – a whopping 70% off!
It's designed to eradicate bacteria by removing up to 100% more plaque vs. a manual toothbrush, helping to keep your teeth clean and healthy for a long time to come. Its premium handle design along with its gum pressure control automatically slow brush speed down, visibly alerting you if you brush too hard. Now, that is cool.
With 5 brushing modes (daily clean, pro clean, sensitive, whitening and gum care) and a battery that lasts more than 2 weeks with only 1 charge, it keeps getting better doesn't it?
Well, look at the price: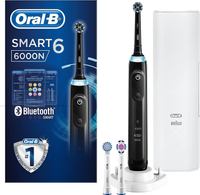 Oral-B Smart 6 Electric Toothbrush: was £219.99, now £64.99 at Amazon (save £155)
Save 70% with this Oral-B Smart 6 Electric Toothbrush! Available in black or white, this toothbrush offers superior cleaning and healthier gums with real time brushing feedback.
Day 2 of the Amazon Prime Day deals has also bought another scorcher! Introducing the Oral-B Pro 3...
It comes with Oral-B's unique 3D cleaning technology: oscillates, rotates and pulsates for up to 100% more plaque removal and healthier gums vs. a manual brush. The brush head also fade from green to yellow based on individual usage, indicating when it's time to change, to keep a 100% cleaning efficacy. Now, that's cool!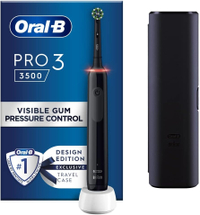 Now, if you're looking for something a bit more advanced, then have a peruse at the Oral-B iO5 and Oral-B iO7. Both electric toothbrushes are more recent that the Smart 6 as they feature AI and revolutionary magnetic technology - we even reviewed the iO7 last year!
Both toothbrushes still have a saving of 63% and 68%, so you'll still be grabbing a huge bargain. Take a look: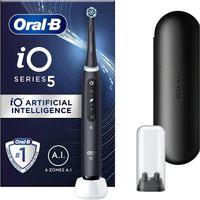 Oral-B iO5 Electric Toothbrush: was £280, now £89.99 at Amazon (save £191)
Save 68% on the Oral-B iO5 Electric Toothbrush with Artificial Intelligence. Available in black, white, pink/black duo and black/white duo!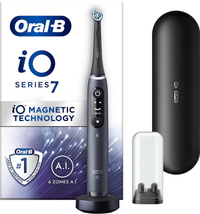 Oral-B iO7 Electric Toothbrush: was £399.99, now £149.99 at Amazon (save £250)
Featuring AI and an enhanced smart pressure sensor, the Oral-B iO7 has an interactive display as well as 5 cleaning modes: Daily Clean, Gum Care, Sensitive, Intense Clean and Whitening. It's also able to track your brushing time, replace timely refill head & track battery level. Available in black, white or back/white duo.
Happy brushing!