Watch out! What's that? Is it a blue shell? No wait, it's one of the best games for Nintendo Switch at the best-ever price. Mario Kart 8 Deluxe is now only $29.99, that's a 50% discount from its usual $59.99 price.

Look, I'm not gonna explain Mario Kart to you, it's one of the most iconic game series of all time but this latest instalment (the best-selling game on Switch) does bring a few changes. Tracks now have anti-gravity sections that see you driving on the wall or even the ceiling and they do add a whole new dimension to races, plus in these sections, colliding with another racer actually gives you a speed boost.
Mario Kart 8 Deluxe includes a frankly absurd number of characters (although I will always play as Yoshi) from all sorts of Nintendo franchises like Splatoon and Zelda
as well as the Mario universe.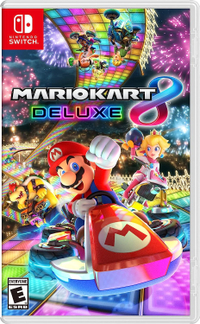 Mario Kart 8 Deluxe: was $59.99 now $29.99
The best-selling game on Switch is another Mario classic. This is the most recent Mario Kart game, and comes with 32 tracks included with an extra 16 available as DLC. This is of course a local and online multiplayer must-play, so gather some friends and let's go.
Easy to learn but hard to master, the Mario Kart games have always been party classics and this instalment is no exception, offering up to 4-player local multiplayer and hectic 12-player online races. Of course, as the first Mario Kart title on the Switch, this is the only title in the series that you can play both at home docked on one of the best TVs and on the go in handheld mode.

If the 32 included tracks somehow aren't enough for you then don't worry, the Mario Kart 8 Deluxe Booster Pass DLC (sold separately) adds 16 more and a host of new characters.