If you've been looking for a new pillow set, the Black Friday sales are the best place to look. All mattresses companies are still running their best Black Friday deals, with some offering up to 60% off on mattresses, pillows, duvets and other sleep accessories.
It's tricky to know how often you should replace your pillow but if your current pillow is feeling lumpy and uncomfortable, it's time to get a new one. At T3, we're experts in sleep and wellness, so if you're not sure what pillow you should get, we have a full comprehensive guide to the best pillows, featuring down, memory foam, bamboo and hybrid options.
Lucky for you, 3 of our favourite pillows that feature in our best pillows guide are involved in the Black Friday sales: the Emma Premium Microfibre Pillow, the Simba Hybrid Pillow and the Panda Memory Foam Bamboo Pillow. We've thoroughly tried and tested these pillows and found them to be comfortable, supportive and made from luxurious innovative materials.
To help you save up to 50% on star-rated sleep accessories, we've rounded up the latest price drops on our favourite pillows from Emma, Simba and Panda below. If you're interested in a new full sleep set-up, we have a dedicated best Black Friday mattress deals for all offers and sales from top mattress companies this year.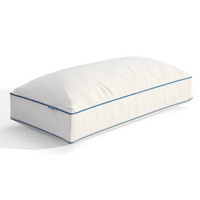 Emma Premium Microfibre Pillow: £115, £57.50 at Emma
Get the Emma Premium Microfibre Pillow for half price in the Emma Black Friday sale. In our Emma Premium Microfibre Pillow review, we were most impressed by its luxurious look and feel, its softness and how easy it was to customise its height and firmness for extra support. Now with 50% off, this is the perfect pillow for all sleepers and specifically for people who prefer softer pillows.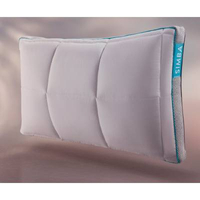 Simba Hybrid Pillow: £109, £81.75 at Simba
Get 25% off the Simba Hybrid Pillow in this Black Friday deal. This open-cell foam pillow uses Stratos Active Temperature Regulation technology that makes it super breathable and doesn't trap too much heat. It's made from high quality materials and is vegan-friendly. See our Simba Hybrid Pillow review for all the details.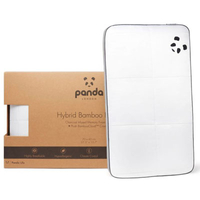 Panda Memory Foam Bamboo Pillow: £44.95, £35.96 at Panda London
If you're looking for something sustainable, the Panda Memory Foam Bamboo Pillow is now 20% off in the Black Friday sales. Made from high quality foam, this pillow cradles and supports the head and is covered by a bamboo pillow cover that's kind to the skin and eco-friendly. We gave it 5 stars in our Panda Memory Foam Bamboo Pillow review, and with this price cut, it's now more affordable at just £35.96.