Black Friday has arrived! Since I've been looking at deals for the last, well, month, I must say, I don't get too excited looking at all the 'amazing' Black Friday deals; most of them are fine, at best. However, one thing I can't get enough of is cheap headphones deals, especially involving quality audio equipment, such as the Shure Aonic 50, which you can buy for over £100 (or $50 in the US) less for a limited time only.
Shop all Shure headphones and microphone deals at Amazon
In our 5-star Shure Aonic 50 review, we said these premium cans have perhaps the best sound quality of any noise-cancelling headphones if what you want is a very detailed sound that makes the most of hi-res streaming services. For your money, you get amazing sound and battleship-like build quality. They're also pretty big, though, and have a good heft to them. We just noticed, but Shure also has its Black Friday Sale on at the moment with some sweet online-exclusive deals!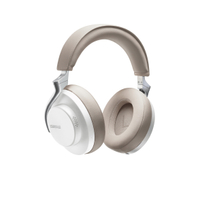 Shure AONIC 50: Was £309, now £197.06 at Amazon
These noise-cancelling headphones have studio-quality sound, allowing a premium listening experience for Tidal and Spotify Premium users. Battery life is up to 20 hours, and built quality is through the roof. Please note: to buy the headphones for the price indicated above, you must tick the voucher box on the product listing page (adds another £31.23 reduction).
Intersted in noise-cancelling headphones? Check out T3's best noise-cancelling headphones guide, and you might want to also have a look at this Sony WH-1000XM5 deal. If it's microphone deals you need, there are a few decent Blue Yeti deals knocking about, and Vocaster also has a few deals on Black Friday. Oh, and you definitely don't want to miss Jabra's Balck Friday sale!