This year's best Black Friday deals continue to surprise – with sudden price drops on all manner of products, from the best TV deals to plenty of headphone offers in the sales. And it's Sony's top-tier over-ear active noise-cancelling (ANC) headphones, the WH-1000XM5, that suddenly hit their lowest price of 2023 as a result.
Often considered the perfect headphones, as per T3's review, the WH-1000XM5 have long sat atop our best headphones list because they're just that brilliant. For most people they're the ideal balance of design, comfort, sound and ANC ability. And at this price you'll no doubt be even more tempted to buy.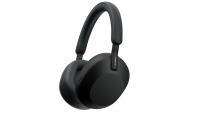 As T3's review says: "In the WH-1000XM5, Sony has managed to replace the best all-round wireless active noise-cancelling (ANC) over-ear headphones you can buy [that's the earlier XM4 model] with, you guessed it, the best new all-round wireless ANC over-ear headphones you can buy."
I've been monitoring the price of the 1000XM5 for some time, using third-party site CamelCamelCamel to verify and alert when the price hit this new low. It's not the cheapest they've ever been, however, but it is the lowest pricing that's been available in 2023, so it's still a decent deal overall – and only less than a fiver different to the lowest-ever price.
The Sony WH-1000XM5 are available in Platinum Silver, Black, and Midnight Blue colourways and all three options are part of this offer. Sony's official store upholds this deal, as do other retailers such as Amazon, so keep an eye on the real-time shopping widget below for up-to-date pricing from various retailers to decide where's best for you to buy.