At T3 we've been fortunate enough to review some of the best TVs in 2023, and while at the high-end the likes of, say, Samsung's S95C are award-winning models, if you're seeking a big screen on a budget then here's an early Amazon Prime Day deal worthy of your attention.
On sale ahead of the mega-sale is the Hisense A6, which while it's not a 2023-release TV, it's only just over a year old and still super up-to-date in all the areas that matter. But what's really standout about this TV – which reviewed handsomely, being called "the best cheap 4K TV if you want a BIG screen for less" – is that there's another 40% off, taking the 55-inch model down to a very eye-catching £329.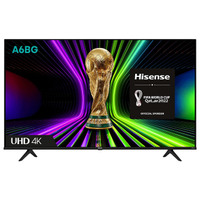 Hisense A6 55-inch 4K TV: was £549, now £329 at Amazon.co.uk
When reviewed in 2022, we praised this big screen for being a bit of a bargain, so now it's only better value. Great 4K picture (albeit without the highest contrast on the market) leads the way, while HDMI 2.1 ports ensure decent gaming capabilities, and eARC ensures that any additional soundsystem will connect up and play nicely with any inputs. Lovely stuff.
However, the Hisense A6 isn't at its lowest-ever price just yet. It's still a bargain, which I'm sure you'll agree, but using CamelCamelCamel to track the price, and it has in the past been even closer to the £310 mark. So it's worth monitoring this product to see if Amazon trims the price yet more for Prime Day proper.
Buying the Hisense A6 today does still make a lot of sense though, especially if you can also pull together some extra cash to buy one of the best soundbars to go with it – that was one criticism in our review, where we suggested the sound isn't as big as the big-deal price that the TV's on sale for right now.
So if you want a big, well-specified 4K TV for a lot less money than the mainstream brands will charge then the A6 could be just the ticket. The 55-inch version is a real sweet spot of price and size.