We had to wait what feels like hundreds of years for Google's Pixel Watch to arrive, but it was worth the wait. As noted in our Google Pixel Watch review, it's a sexy and feature-rich wearable that falls short only in a few categories. It's a superb Apple Watch alternative for Android smartphone users, particularly Pixel owners. And now you can own one for $50 less, thanks to this brilliant offer at Amazon.
We must admit, when we saw the first images of the Pixel Watch, we thought it'd be less premium than it actually is. The build quality of Google's first in-house wearable is superb, including the materials used and the design of the watch itself. Better still, it also performs well and showcases the best qualities of Wear OS—a quality wearable through and through.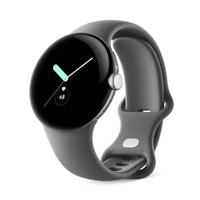 Google Pixel Watch: was $349.99, now $299.99 at Amazon
The best of both worlds, the Google Pixel Watch is a fitness tracker turned smartwatch that can monitor all your vital signs and keep you up to date about everything that happens around you. It's now $50 at Amazon; however, you must hurry, as the deal ends on 19 Jun!
Google acquired wearable-expert Fitbit in January 2021 to help them develop their own wearable using Fitbit's enormous health database and hardware know-how. Finally, here's a smartwatch that can take on the best Apple Watches to become the best smartwatch overall!
The Google Pixel Watch has a circular, domed design and uses Fitbit's health-tracking system and algorithm to monitor all your activities, calories burned and more. It can even asses your sleep and heart rhythm for AFib with ECG. There are, of course, tons of smart features on board, including Google Maps, Wallet, calendar notifications, messages and more.