What's better than flying a drone? Flying a drone in first-person mode, of course. But wait, we have one better! How about flying one of the best drones in FPV mode? That's exactly what this DJI Avata Fly Smart Combo enables you to do. Now, you don't even have to pay for the privilege, as Amazon just slashed the price, saving you £200 in the process.
If you fancy the idea of FPV flying using goggles but haven't a clue how to build an FPV drone yourself, DJI is here to help with a stunning, ready-to-fly drone that swoops around like a bird of prey. If you've had enough of standard aerial footage and are ready to lift your game to the next cinematic level, the DJI Avata is the drone for you.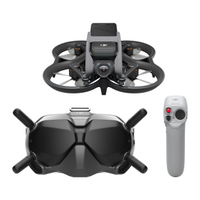 DJI Avata Fly Smart Combo: was £989, now £798.92 at Amazon
Take your drone piloting efforts to the next level with DJI's Avata drone. Thanks to the headset and the special controller, you can control the drone in first-person mode, allowing you to manoeuvre the flying tripod you wouldn't be able to do otherwise. Now £200 off – the cheapest it's ever been at Amazon!
DJI is the top drone manufacturer, and it's not often we see such an excellent cheap DJI drone deal come around. We aren't saying it's impossible to find a decent offer on DJI drones, but it's true that niche flying tripods such as the Avata aren't often discounted, making this deal all the more unmissable.
For more drone and action camera offers, head over to this page at Amazon. For deals on everything else, check out T3's curated Prime Big Deal Days sale page, where we collated all the offers worth knowing about.