I'm not sure what, but there's something about the colder days that urges me to start looking after myself a bit better. It's probably to do with wanting to stay well, but that doesn't mean I'm not inclined to buy myself a new moisturiser or an updated electric toothbrush for that matter.
In my recent search for a new electric toothbrush, I've been coming across some great deals. However, there's one that particularly caught my eye: the Oral-B Pro 3500. Known for being one of the best Oral-B electric toothbrushes you can buy, it's currently discounted by more than half price, reduced from £100 to £45. Have a look for yourself:
Oh but before you do, definitely read our guide on electric toothbrushes vs manual brushing. The difference between the two is crazy!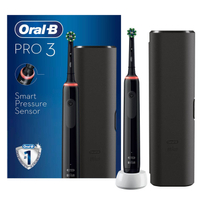 Oral-B Pro 3500 Cross Action Electric Toothbrush: was £100, now £45 at Oral-B (save £55)
Save 55% on the Oral-B Pro 3500 for a professional clean feeling everyday. Available in black or pink.
As well as being a best-seller, the Oral-B Pro 3500 is also known for being highly recommended by dentists. Its sleek handle and professional timer helps you brush for 2 minutes, also notifying you every 30 seconds to change the area of your mouth you're brushing. While you are just moving the brush around your mouth, Oral-B's unique round head does all the rest (Read our round up of the best Oral-B toothbrush heads to find out how).
The Oral-B Pro 3500 removes up to 100% more plaque than a standard manual toothbrush for healthier gums and it starts making your smile whiter from day one by effectively removing surface stains. Not only this, but the toothbrush helps protect your gums with the 360 ̊gum pressure control technology that reduces brushing speed and alerts you to be gentler if you do brush too hard. The 360° pressure sensor turns red and automatically slows brush speed when rough brushing is noticed.
There are three brushing modes that help you get the most out of your toothbrush: daily clean, whitening and sensitive. Its battery also lasts more than 2 weeks with only 1 charge with the Lithium-ION battery - perfect for travelling!
The Oral-B Pro 3500 also comes in four unique colours: Light Rose, Blue, Black and Jet White. However, as of writing this, the Black and Light Rose are the only colours left, so be quick if you want one!
Interested in some more Oral-B models? Check out our best Oral-B electric toothbrush deals for this month to do some comparing!