If you didn't know already, we've got your back here at T3. We're constantly looking for the best tech and smart home deals you can get your hands on, and boy, have we got a good one today.
Smart home security has grown in popularity over the last few years, with some big companies releasing some of the best security cameras and security devices the industry has ever seen. Philips Hue even recently announced it was branching into the smart security game, with 3 different security products set to launch later this month - we're quite excited about it if you couldn't tell already.
Arlo is another big smart security name. The company offers an impressive mix of technology and convenience and it's no secret that its products are brilliantly made. One of its most recent releases included the new Essential range, a group of security cameras that promise to deliver the same impressive performance and excellent smartphone app at more affordable prices.
It's one of these cameras that Amazon has dropped its price by almost 50%. The Arlo Essential Spotlight Camera is one of T3's favourite outdoor security cameras, and it is currently in the top spot of our best outdoor wireless security camera guide. We also gave it an impressive 4-star rating in our full review last year.
Whilst a lot of smart home security cameras need to have a hub in order to work, this isn't necessary for the Arlo Essential Spotlight Camera, making it a more affordable and more flexible option. It's also compatible with Apple HomeKit, Alexa, Google Assistant, Samsung SmartThings and IFTTT.
The 1080p camera has a 130º viewing angle with 12x digital zoom, motion detection with a range of up to 23 feet and a detection field of 110º, as well as the ability to see things at a distance of up to 300 feet. The Essential comes with three months of Arlo Smart, which gives you 30 days of cloud storage, activity zones and the ability to differentiate between people, pets and packages.
There are a small amount of fallbacks, including the camera quality not being as clear as some of Arlo's other products, but make sure to check out our full review to find out more.
Now, onto the good stuff. Amazon have reduced the Arlo Essential Spotlight Security Camera 4-pack by almost 50%, taking it from £286.96 from £479.98. That makes each camera only £71.74 each when they are normally £129.00 each - impressive, right? Have a look for yourself: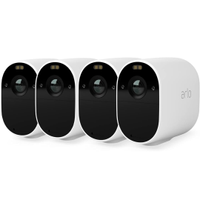 Arlo Essential Spotlight Security Camera 4-pack: was £479.98, now £286.96 at Amazon (save £193)
The Arlo Essential Spotlight Camera is a welcome affordable addition to the family and you can use it without having to buy a camera hub. It lacks the image quality of other Arlo products, but it's an excellent all-rounder.
Unfortunately, the offer is only available in white. However, it's a perfect choice if you're just looking to start implementing smart security into your home, especially if you're not sure where to start.
Looking to do a bit more research before you buy? Check out our comparison between the Arlo Essential Spotlight Camera vs Arlo Essential Indoor Camera!