Whoever came up with the idea that Amazon Prime Day should happen July certainly knew what they were talking about. Well, it could just be the gardening fanatics that think that, but you can't help but agree after seeing all the wonderful bargains taking place. Gone are the days waiting for barbecues and lawn mowers to go on sale during the winter time - Amazon is here to change that.
One particular deal that has caught our eye is on the Kärcher LMO Cordless Lawn Mower. T3 reviewed the Kärcher LMO last year and it was awarded an incredible 5 stars. A 5-star review doesn't happen too often here, so once we saw it was up in the Amazon Prime Day deals, we had to tell you all about it.
Kärcher is a reputable German brand that's also famous for its wide range of pressure washers. Their pressure washers occupy the top three positions in our guide the best pressure washers - go and check that one out too if you're interested!
Oh before we begin, have a look at 7 mistakes everyone makes with their lawn mower!
What is the Kärcher LMO Cordless Lawn Mower?
Stealing 2nd place in our 2023 best cordless lawn mower list, the Kärcher LMO is a cordless lawn mower that has a 2-in-1 mowing system, collecting grass cuttings in the 45 litre catcher box and then distributing them as natural fertiliser on the lawn thanks to the integrated mulching plug. The LMO mows the lawn right to the edge with a cutting width of 36 cm and the cutting height can be adjusted as required.
Described as 'compact, lightweight and manoeuvrable', the lawn mower is very agile and easy to manoeuvre even on uneven terrain. It weighs only 13.27 kg, can be folded and stored away to save space.
It comes with a separate Kärcher 18v/5.0Ah battery charger, and after just one charge, an area of up to 350 m² can be covered!
The delivery also includes a cutting blade, a mulching plug and the 18v/5.0Ah rechargeable battery.
How much is the Kärcher LMO Cordless Lawn Mower?
You can now grab the Kärcher LMO for an amazing £244.99, reduced from £349.99! This price is currently the cheapest the Kärcher LMO has even been on Amazon which means we're not sure how long it'll last! Make sure you grab the bargain whilst you can: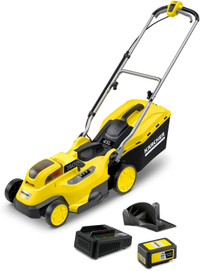 Interested in more bargains in the Amazon Prime Day deals? Have a look at our best Prime Day outdoor and garden deals for 2023!