November is now a few days which only means one thing: Black Friday is coming. This year, the massive retail event is taking place on Friday 24th November, followed by Cyber Monday on Monday 2nd November. As we start collecting all the best discounts in the lead up to the big day, we've got a brand new deal to share with you.
Ultenic have reduced its brand new cordless vacuum cleaner, the Ultenic U12 Vesla, to 129.99 in Amazon's early Black Friday sale. That means you can get this impressive vacuum cleaner and save £50 at the same time - pretty cool, right? The reason why we're so excited about this one is because we reviewed it only a few months ago, giving it a rather rare 5-star rating. Check out the full review if you don't believe us!
Known as the Tesla of vacuum cleaners, the U12 Vesla is Ultenic's most futuristic cordless vacuum cleaner so far. It has a strong range of impressive features, all of which you can now get your hands on for an incredible price. It's currently reduced to £143.99 on Amazon, but Ultenic have shared with us an exclusive discount code which gets you an extra £14 off. Therefore, make sure to add the code DNUWKYSW at checkout.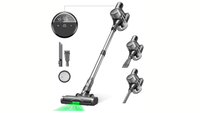 Ultenic U12 Vesla Cordless Vacuum Cleaner: was £179.99, now £129.99 at Amazon (save £50)
Grab the Ultenic U12 Vesla Cordless Vacuum Cleaner for an impressive price of £129.99, reduced from £179.99. The Amazon early Black Friday sale takes it down to £143.99 but use the promo code DNUWKYSW for an extra £14 off!
Since we reviewed the U12 Vesla, it's now sitting as third best in our cordless vacuum cleaner buying guide. It's the perfect vacuum cleaner to buy if you're looking for an effective model with a great range of features. If you're also wanting a cordless vacuum cleaner that doesn't break the bank, then the Ultenic U12 Vesla is 100% the one for you. Despite its battery level not being the most revolutionary, it is a pretty perfect vacuum cleaner. The powerful suction, green LED lighting and futuristic display screen make it an all-round wonderful model, and it really is worthy of a 5-star review.
However, the discount is only available until Sunday 5th November, so be quick!
Why don't you have a look at our guide on how to clean a vacuum cleaner? You may need it if we've managed to convince you!