If you know your stuff when it comes to the best cordless vacuum cleaners, then you've most likely heard of Ultenic. As an up-and-coming brand in the smart cleaning world, they really are beginning to make their mark with a variety of outstanding vacuum cleaners.
After launching the FS1 stick vacuum cleaner and T10 Elite robot vacuum cleaner earlier this year, they are back and have brought their latest model to the UK market. The U12 Vesla was launched last week and is known as the Tesla of cordless vacuums - sounds pretty good right? With its green eye technology, anti-tangle technology and car dashboard design display, it seems to be Ultenic's most futuristic vacuum so far.
Before you find out more, check out our review of the Ultenic FS1 so you can compare it with the U12 Vesla!
Ultenic U12 Vesla: price and availability
The U12 Vesla cordless vacuum cleaner is currently available from Amazon for only £149.99 - that's a saving of 16%!
You can also grab one on the Ultenic site for $149.99 if you're based in the US.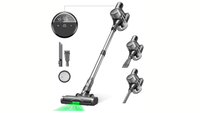 Ultenic U12 Vesla: Features
Green Eye Technology
The Ultenic U12 Vesla cordless vacuum adopts advanced GreenEye technology. The green LED headlights reveal microscopic dust on hard floors, identify the dirtiest areas, reduce cleaning time and save energy for more precise and efficient cleaning. The vacuum includes different brush heads with the versatility to use it as a stick or hand vacuum and the host of the cordless vacuum cleaner is equipped with a flashlight, which illuminates dark areas and makes it easier to clean corners of desks, cabinets, sofas etc.
Powerful, continuous suction
Equipped with a 450W high speed digital motor, the U12 Vesla provides suction up to 30Kpa. There are 4 different speed modes to meet all of the users' daily needs and whilst on AutoMode, it detects the amount of dust or dirt on the floor and adjusts the suction power automatically. Powering up is a one-button operation so there is no need to press the button for an extended period of time making it much easier to use. The dashboard-inspired screen design adds a fun touch to the daily cleaning routine and the battery status, brush clogging, air duct blockage, light on or off and the selected mode can be all be quickly monitored. The U12 Vesla vacuum also has a HEPA filtration system which captures 99.9% of pollen, bacteria and dust mites so ideal for hay fever or allergy sufferers. Perfect for both hard floors and carpets, it tackles the toughest messes with ease.
Tangle free roller brush
The floor brush of U12 Vesla features anti-tangle technology to easily pick up long hair and pet hair without tangling, avoiding the need to keep cleaning an entangled brush and getting covered in dust. The 1L large capacity dust bin allows users to save time by not having to empty it frequently and it can be used again and again before it needs emptying.
Ultenic U12 Vesla: What's in the box?
The U12 Vesla vacuum cleaner also comes with a crevice brush and a combination tool, so users can switch it to a handheld vacuum in seconds to clean sofas, cars, stairs, and upholstery. The telescopic pipe allows users to adjust the length of it as needed, to pick up the dust on hard-to-reach ceilings and ceiling fans. It has a removable battery, so users can charge it anywhere in the home and with a battery life of up to 45 minutes on a single charge (in ECO mode, measured at the hand vacuum), it can tackle an entire home without interruption.
Ultenic U12 Vesla: Design
The U12 Vesla features a car dashboard design display to keep homeowners fully informed at all times and is made from a strong plastic housing, with a sleek, ergonomic design with a built-in white flashlight and wall mount bracket for easy storage.
Have we got your attention? Read about the top 9 mistakes that everyone makes with their vacuum cleaners.