If a regular MacBook is just too big and cumbersome for you then the iPad Mini is the ultimate solution. This sixth-generation model is the best one available, and its compactness gives it a unique appeal among the best iPads, so the iPad Mini is absolute proof that good things come in small packages.
Android tablets seem to be making a comeback with the OnePlus Pad and the recently announced Google Pixel Tablet, but if you want ultimate compatibility with your iPhone, Apple's iPad is the only sensible option. Let's be honest as well, nothing else seems to quite have that beautiful iPad sheen – especially when you can get it for under $400.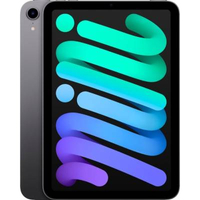 Apple iPad Mini (6th gen): was $499.99, now $399.99 at Amazon.com
The best small tablet on the market, the iPad Mini 6th Gen is a pocket powerhouse with its A15 chip. The crisp display is also fully compatible with the Apple Pencil – perfect for jotting down your best ideas wherever you are.
In our five-star review for the iPad Mini we were full of praise for this mini marvel, describing it as a "highly flexible computer in the smallest possible space." While it's always fun to have a play around on tablets, the iPad Mini could also be your primary work machine. With a USB-C port, it's easy to attach a keyboard or whatever accessories you need, or you could even go freehand with full Apple Pencil support.
While the battery life of such a portable device doesn't quite live up to its bigger brothers, such as the iPad Pro 12.9-inch, you should still expect a healthy lifespan of around 10 hours with general use – which is more than enough.
If you're in the market for a tablet or an ultra-light work machine, it's hard to look beyond the iPad Mini, and at this price, we don't think you should...