It's no secret that foldable phones are a big deal right now. The latest and greatest models are improving all the time, with new features and and specs to tempt you in.
There's not a lot of argument about the best flip phone on the market though. While lots of competition has arrived, the Samsung Galaxy Z Flip 5 is widely regarded as the best option, pulling together software and hardware performance to create a truly brilliant device.
Right now, you can save 20% on the brand new model, picking one up for just $799.99 at Amazon!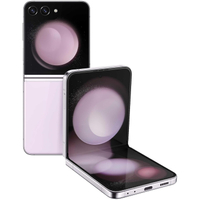 Samsung Galaxy Z Flip 5: was $999.99, now $799.99 at Amazon
Pick up a Samsung Galaxy Z Flip 5 with a $200 saving this Amazon Prime Day. The latest handset is one of the best flip phones on the market, making this an even more attractive proposition.
That's a great price for one of the top foldable phones right now. Users will enjoy a duo of 12MP sensors on the rear of the device, for elegant shot snapping. Those are the star of the show for all camera work, really – the folding design means you can easily use it for selfies, too.
Inside, a Snapdragon 8 Gen 2 processor keeps things snappy and responsive. That ensures you'll have more than enough horsepower to take you through your day, with the 4nm architecture also contributing to improved efficiency.
The model on offer here is packed with 256GB of storage and 8GB of RAM. That should be plenty for most users, offering a decent amount of space for files and enough RAM to keep multiple apps ticking over at once.
The device itself folds out to reveal a 6.7-inch FHD+ display. That's an AMOLED panel, with a crisp 2,640 x 1,080 resolution. On the front, a 3.4-inch display utilises most of the available space, allowing users to do more with their device without unfolding it.
Still, it's not like you have any reason to worry about the longevity of the hinge. We recently enjoyed a durability test conducted by a YouTube channel, where the Z Flip 5 was livestreamed being continually opened and closed until it broke.
The model was head and shoulders above the competition, lasting for over 400,000 flips, and being used in dirt, water, fire and dough, before it finally succumbed. That is seriously impressive – flip phones are unfairly scapegoated for their durability, and that test proved that it's a stereotype which doesn't deserve to see the light of day.