Amazon Prime Day is upon us – until the clock passes midnight at the end of Wednesday 12 July – and it's a genuinely strong showing from the retailer this year, with the whole T3 team impressed by personal favourites and top-rated 5-star tech.
Speaking of which, the best active noise-cancelling (ANC) earbuds of 2023, the 5-star rated Bose QuietComfort Earbuds II – which also won the 2023 T3 Award for Best Noise-Cancelling Headphones – have got a today 29% discount for the sale period only. And if ANC is your number one priority when buying in-ears then this Bose product is unbeatable.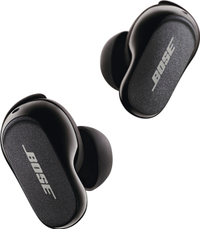 Bose QC Earbuds 2: was £279.95, now £199.99 at Amazon.co.uk
Given how new the Bose QC Earbuds 2 are, such a sharp price drop for Amazon Prime Day is a rare sight indeed. Bose doesn't often see its prices dip, and given the sheer quality of these earbuds, from both a sound and ANC perspective, I'd call this one of the best Prime Day deals we'll see in 2023.
A favourite entry among the Amazon Prime Day Headphones & Earbuds Deals feature, I think this Bose discount is among the best that you'll find throughout Amazon Prime Day. One, because this is a 2023 product and hasn't been on sale very long, so to see a discount so swiftly is rare. Two, because the QC Earbuds 2 are among the best earbuds to have launched... ever!
I'm less into in-ears than over-ear headphones, but if I was shopping and had a spare £200 for the task then, no doubt, the Bose QC Earbuds 2 would be top of my list. If you want to pay even less for also-amazing earbuds, however, then there's also a top deal on the Sony WF-1000XM4, which are just £149 this Amazon Prime Day. I personally prefer the Bose's scale and stronger ANC, so would pay the extra.
T3's Bose QC Earbuds 2 review highlights just how impressed we are with these headphones, stating: "If you want absolutely, positively the most effective noise-cancellation of any true wireless earbuds around, well… here they are. It's next-level stuff." And they've never been cheaper, either, as I've confirmed on price-tracking site CamelCamelCamel – the next lowest price was still £30 more, at £229.99, so this deal is the genuine article.