From the moment they launched, the Sony WF-1000XM4's have topped our guide to the best wireless earbuds on the market. It's not hard to see why.
Coming from such an iconic audio brand, you'd expect big things. But the XM4's go above and beyond, fusing an incredible audio experience with a stylish footprint.
Great news if you fancy a pair – they've just hit their lowest price ever in the Amazon Prime Day sale. You can snag a pair for just £149 – that's £101 off the retail price!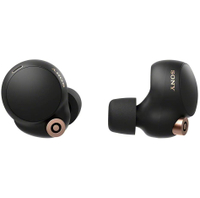 Sony WF-1000XM4: was £250, now £149 at Amazon
Save £101 on the brilliant Sony WF-1000XM4 wireless earbuds in the Amazon Prime Day sale. These have long been regarded as the best option on the market – and you can get them right now for even less.
There's a reason why these are widely considered the best option for wireless earbuds. In fact, there are multiple reasons. For starters, they're simply gorgeous. Some are too plain Jane; some are too outlandish, but the XM4's just hit the sweet spot.
Then there's the noise cancellation. One of the benefits of this kind of device is being able to block out the world around you. It's perfect for planes and trains (though we don't recommend them in automobiles), allowing you to get lost in your own little world.
For those times when you do need to be aware of your surroundings, they also have a great ambient passthrough. Within the Sony app, you can fine tune just the right amount of ambience, to make sure you hear exactly what you need to. It's great if – like me – you enjoy listening to music while you're walking around.
But of course, the sound quality is the big thing here. Sony just do audio right, and these are a shining example of that. True studio quality sound brings your favourite tracks to life, with a level of definition that is so hard to find elsewhere. Audiophiles will rejoice in the detail and separation on offer here.
All of that makes it a pretty appealing product at RRP. Shave over £100 off of that, though, and it's a true no-brainer. If you love music, and want to seriously level-up your listening game, this is the deal for you.