It can be easy to get confused by the various different technologies found in the best TVs. You've OLED, QLED, Neo QLED... it can be a real minefield – particularly if you just want a decent looking display for a reasonable price.
But don't you worry, dear reader, that's where we come in. We're experts in this sort of thing here at T3, having spent decades covering the best technology on the market. In that time, we've also gained a keen eye for a deal – so you can rest assured that the one I've procured for you today is worth taking note of.
Right now, you can pick up an Amazon Fire TV with a 4k QLED panel for just £299.99 at Amazon! That's a 45% saving, and a frankly ridiculous price – who said you need to wait for Amazon Prime Day to get a good deal?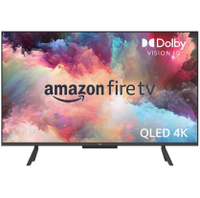 Amazon Fire TV 43-inch Omni QLED: was £549.99, now £299.99 at Amazon
Enjoy the beauty of a QLED display for less with this Amazon Fire TV. A 45% price reduction means you can get your hands on one for as little as £299.99!
That price snags you the 43-inch TV in the range. And sure, you might like a bigger panel for a living room, but it's more than enough for a secondary TV in a bedroom or similar. You'll find deals on panels of other sizes, if that's your preference – all the way up to the 65-inch TV.
You get an awful lot of tech for your money, too. Obviously the QLED panel is the standout feature here, bringing brighter, richer colours with a more lifelike hue. Combine that with 4k capabilities, and you can be sure that you're going to be viewing some truly outstanding visual content.
Being an Amazon product, it also has Alexa built into the device. That gives you hands free control – simply ask Alexa to turn on the TV and the built-in microphones will pick up your voice and take action. The same can be said for pulling up content, too, with all of the best streaming services supported.
Amazon has also built in something called the Fire TV Ambient Experience, too. That turns the screen into a canvas for displaying artwork – similar to the Samsung The Frame – as well as personal photos and widgets. That's really handy, and makes it easier to keep the device useful, even when not in use.
A host of I/O ports will also ensure you can keep all of your devices together in one entertainment system. You'll find a total of four HDMI ports – one HDMI 2.1 and three HMDI 2.0 – as well as a cable insert, two USB-A ports, an Ethernet port, an optical port, a mini AV input and an IR emitter.
Oh, and just so you can be sure you're getting the best deal, we checked this on Amazon price tracking website CamelCamelCamel. That shows the price history for Amazon products, and confirmed that this deal takes the TV to its lowest price ever. Be quick if you want one – I'm sure these won't last long.