With long summer nights finally here, many may look to pick up one of the best portable projectors. It's a great option to take with you on the move, allowing you to enjoy content from the best streaming services wherever you go.
The top pick in our guide to these devices is the XGIMI Elfin. Our reviewer was enamoured with the bright, 1080p projection, the lightweight construction and the Keystone correction.
Now, you can snag one with a healthy discount. Right now, in the Amazon Prime Day sale, you can grab an XGIMI Elfin for £447 – that's a saving of £112!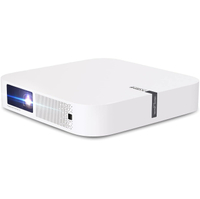 XGIMI Elfin portable projector: was £559, now £447 at Amazon
Save £112 on the best portable projector in the Amazon Prime Day sale. The XGIMI Elfin is our top pick in this category, and you can pick one up for even less. Enjoy HD content wherever you go, on any surface!
Why should you buy the XGIMI Elfin? When we tested it, our reviewer dubbed it "close to portable projector perfection." That's a big claim, so lets look at some of the features.
You'll find a bright 1080p projection onboard, offering full HD content on any surface. It's also built to be solid, without sacrificing portability. The Elfin is lightweight at just 900g, but will still give you a reassuring feeling of quality.
Thanks to the flatter nature of its design, it's also really sturdy. Unlike tower-shaped projectors, which can wobble easily, the Elfin is wider than it is long. Once it's in place, it's going to stay there, meaning you don't have to worry about your perfectly crafted picture becoming skewed.
Talking of a perfectly crafted picture, this model features Keystone Correction. Put simply, that uses a digital process to correct for the warping that can occur if the lens of the projector and the screen aren't completely perpendicular. The process for using this on the Elfin is intuitive, which is always a plus.
There's even a pair of Harman Kardon speakers onboard. While they'll likely be too small to offer a home cinema experience on their own, it's a great additional feature for viewing in smaller spaces.
When you do need a bit more oomph in the audio department, 3.5mm jack and Bluetooth 5.0 connections are perfect for pairing with whatever setup you have. That's paired with an HDMI input and a USB port for extra connections, and dual-band WiFi.
It's a great option if you're looking for a projector which is easy to move around between different locations.