We've already seen a host of great Amazon Prime Day deals over the sales period. It certainly hasn't disappointed, but don't think the fun is over yet.
There's a great deal to be had on the Samsung Galaxy Tab S8 Ultra right now. That tablet is pretty much the only alternative you should be considering if you're looking for a high end device, but don't fancy an iPad.
Right now, there's 25% off the device – but you'll have to act fast, as the sale ends at midnight! So, if you want to snag a top-spec Galaxy Tab S8 Ultra for just £1,199 – saving £400 in the process – check the link below.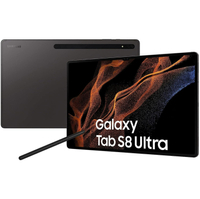 Samsung Galaxy Tab S8 Ultra: was £1,599, now £1,199 at Amazon
Save £400 on the Samsung Galaxy Tab S8 Ultra in the Amazon Prime Day sale. That gets you the top-spec device – complete with 5G connectivity and 512GB of storage. If you want a premium tablet experience, this is the deal to get.
For starters, you'll find a 14.6-inch display on-board here. That's absolutely massive – lots of laptops aren't that big – and should give you ample space to work and play. It's a Super AMOLED display with a 120Hz refresh rate, too, so you'll get gorgeous picture quality – perfect for watching shows or movies from your favourite streaming service.
Inside, it's packing the Snapdragon 8+ Gen 1 chipset. That's a solid processor, which should provide enough power for just about anything you can throw at it. Plus, the 4nm architecture should provide a little extra efficiency over 5nm rivals.
You'll also get the S Pen included in the box. That might not appeal to some, but it definitely should. It's a really useful accessory which can be used to navigate the device, as well as giving a familiar feel when drawing or writing.
You should manage to get a full working day out of the battery, too. That makes it a great option for those who value screen real estate, but need the convenience of being able to pick up their workstation for use on-the-go.
On this model, you're also getting all the added extras. 5G connectivity means you can pop a SIM card in for cellular internet access – no more being tethered to wherever has WiFi. Plus, with 512GB of onboard storage, this tablet should have enough space for all of your files.