We're back again for day two of the best bargains thanks to Amazon Prime Day. Yesterday was packed with deals, and we're starting off strong today with a Lightning deal.
It's hard to get excited about an electric shaver, but the Philips OneBlade is arguably as close as you can come. The design is fresh and unique, with a revolutionary blade designed to make grooming easier.
Right now, you can save 50% on them, too. Pick up the Philips OneBlade from Amazon for £29.99 – but act fast as they're going quickly!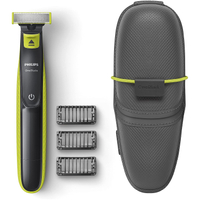 Philips OneBlade: was £59.99, now £29.99 at Amazon
Save 50% on the Philips OneBlade. Enjoy a revolutionary shaving head designed to make light work of your daily grooming – and now you can enjoy it for even less!
You're getting a great deal there, on a product which is really at the cutting edge of grooming. In the box, you'll find a trio of stubble guards, allowing you to trim to 1mm, 3mm, or 5mm lengths.
Remove those and you can use it for a close shave. Plus, with a dual-sided blade, you never have to contort to try and get the right angle. You can use it in any direction to get the perfect lines and edges.
The contour head will also move naturally around your face. That's perfect for getting into all of the nooks and crannies of your face, without leaving patches that are too hard to reach.
You can use the OneBlade in wet or dry scenarios, so no worries there, either. And, with 45 minutes of use from a single charge, you should be able to spend less time charging and more time in use.
You will have to be quick though. This is a Lightning deal, meaning when it's gone, it's gone! At the time of writing, we've just passed 20%, so be quick if you want a great grooming deal.