Looking for a cheap pizza oven in the Black Friday sales? Well you're in luck as I've just found the best Black Friday deal on the Ooni Koda 16 gas powered pizza oven in the Ooni Black Friday sale.
Shop the full Ooni Black Friday sale
Originally priced at £499, the Ooni Koda 16 is now £349.30, saving shoppers 30% on this premium gas powered pizza oven. Sitting in the top five in our best pizza oven guide, the Ooni Koda 16 is the best gas-fired pizza oven you can buy today, and it's incredibly lightweight and portable too.
The Ooni Koda 16 creates delicious stone-baked pizzas in just 60 seconds. Using gas for ultimate ease and control, the Ooni Koda 16 reaches 500°C in 20 minutes and has an extra-large cooking area for 16-inch pizzas and other foods like meat, fish, vegetables and bread.
If you're new to pizza ovens, you can also find up to 30% off on the Ooni Koda 16 Essentials Bundle. In this bundle deal, you get the Ooni Koda 16, the Ooni Pizza Peel and the Ooni Koda 16 cover for just £425.
To view the Ooni Koda 16 deal, click the link above or keep reading for more Ooni deals.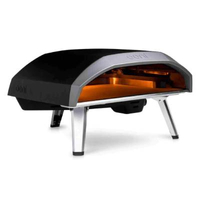 Ooni Koda 16 Gas Powered Pizza Oven: was £499, now £349.30 at Ooni
Save £149.70 on the Ooni Koda 16 in the Ooni Black Friday deals. Easy to use and set-up, the Ooni Koda 16 makes authentic pizzas in a matter of minutes. The gas-fuelled pizza oven has a wide opening, large stone baking board and an L-shaped flame to offer the best pizza making experience.
Fancy a different style of pizza oven? Or maybe you already have one and you're looking for some cheap accessories? The Ooni Black Friday sale has you covered.
The Ooni Fyra 12 is a wood pellet pizza oven that's now 30% off in the sale. Now under £210, the Ooni Fyra 12 looks the part with its gravity-fed pellet hopper and sleek design (see more details on the deal below).
The best pizza oven accessories deals I've found is the Ooni Pizza Peel which is now just £31.99, cheap deals on cast iron skillets and pans, and 20% off pizza oven covers.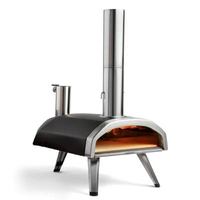 Ooni Fyra 12 Wood Pellet Pizza Oven: was £299, now £209.30 at Ooni
Get 30% off the Ooni Fyra 12 in the Ooni Black Friday sale. The Ooni Fyra 12 is ready to go in just 15 minutes and cooks tasty 12-inch pizzas in 60 seconds. The design is lightweight, portable and durable, and is now just £209.30 for Black Friday.