UPDATE: It seems as though the original deal linked below has ended now. Never fear though – I've found a duo of different timepieces from the same sale which should scratch that itch!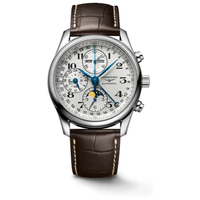 Longines Master Collection Chronograph: was £3,350, now £2,680.01 at Jura Watches
If you really like the watch below, this is the deal to buy. Frustratingly a hair more expensive than the bracelet, this features a gorgeous brown leather strap and is otherwise identical.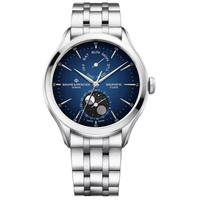 Baume et Mercier Clifton: was £4,550, now £3,640.01 at Jura Watches
If you have a little more cash in the kitty, check out this Baume et Mercier Clifton model. It features a date complication up top, a moonphase at 6 o'clock and more class than a high society ball.
---
I'm lucky enough to spend a lot of time testing out the best watches on the market in this job. I've gotten my hands on top timepieces from all manner of brands, spanning all kinds of price points.
Best UK Black Friday watch deals
I like to think that gives a little extra weight when I call a watch my favourite. My dream watch is the Longines Master Collection Chronograph – and right now, you can pick one up with a healthy £1,000+ discount!
Snag this sumptuous chronograph for just £2,345 at Jura Watches right now!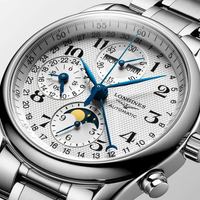 Longines Master Collection Chronograph: was £3,350, now £2,345 at Jura Watches
Save over £1,000 on the incredible Longines Master Collection Chronograph at Jura Watches. This is one of the most complicated watches with a four figure price tag – and it's even less right now!
So, what makes this my favourite watch of them all? Well, it all comes down to the sheer volume of information you get on that dial.
Among a host of features, you'll find a moonphase complication, date, date and even month complications, small seconds and a 24 hour indicator. As if that wasn't enough, you'll also find a full chronograph, with counters for 60 seconds, 30 minutes and 12 hours. Who needs a smartwatch, eh?
That's a ridiculous amount of technology to find in an analog watch. What's far more impressive, though, is finding it in a watch of this price point. Because sure, big complicated watches are ten a penny when you're in the ultra-premium price bracket. Flicking through the Patek Philippe website, for example, shows off all manner of extravagant features.
But those watches are also carrying five- or even six-figure price tags. For most of us, that isn't the kind of spare change you have to drop on a watch – I mean, it's the kind of money you'd use to buy a house!
That is where this Longines model comes into its own. Pound for pound, I think it represents some of the best value-for-money in the watch industry, bringing ultra high end luxury within the reach of normal people.
That makes the current deal even better, in my eyes. Saving over £1,000 off of a watch which was already monstrously good value is absolutely fantastic, and should be enough to tempt a wide variety of users.
I, for one, am going to be hiding all of my credit cards until the sales period ends – important life things must take precedence over pretty watches, sadly – but if you're devoid of such priorities, this is definitely one worth your consideration.