Polar launched the affordable Pacer Pro last year, and it went under the radar of many runners and triathletes. It's a shame, as this is a super competent watch and has a range of sensors and features that make it an optimal training partner. At this price point, it's almost a no-brainer to try it!
The best triathlon watches are generally more expensive due to the fact they are capable of tracking multiple sports activities accurately. Although the brand markets the Polar Pacer Pro as a running watch, it's actually an entry-level multisport watch and one of the more decent ones of those, too.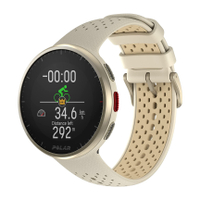 Polar Pacer Pro: was £289, now £229 at Amazon
The Pacer Pro is a brilliant performance wearable for those who put emphasis on training support over smart features. Thanks to its sensors and recovery features, Polar's ultra-light watch is the ultimate wearable for athletes on a budget. Now £60 at Amazon!
We'll go out on a limb and add that the Pacer Pro is a better option than the flagship Vantage V2 – it's definitely better value for money. It works faster than the Vantage M2, its closest predecessor, which is evident in screen transitions and load times. Adding extra features, such as running power and different tests, was a good call from Polar and further increased the 'getting your money's worth' appeal of the Pacer Pro.
For more wearable offers, check out T3's roundup of the best cheap Apple Watch and cheap Garmin watch deals. We also have a list of the best Fitbit deals. For anything else, take a look at our Prime Big Deal Days hub.