The best bit about having a tablet is having a computer that is really portable. There is no device which lives up to that promise more than the iPad Mini. The pint-sized powerhouse is fiercely capable, with a footprint that defies its prowess.
In fact, the device is so small, it often feels a little more like an oversized phone than a tablet. That's fitting, because it's part of an Amazon Prime Day deal you're going to want to phone home about.
Right now, you can pick up the iPad Mini for just $379.99 – that's a saving of $120 against the retail price.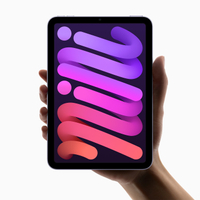 iPad Mini: was $499, now $379.99 at Amazon
Save $120 on the iPad Mini in the Amazon Prime Day sale. Pick up the daintiest member of the iPad family for even less, and enjoy computing on the go, in one of the smallest footprints around.
That's a great deal. The iPad Mini packs in a ton of top tech – despite what its 0.65lbs weight would suggest. An 8.3-inch Liquid Retina display ensures you can see all of your content in glorious detail, with a 2266 x 1488 resolution. 500 nits of brightness should give it a fighting chance of being seen even in bright conditions, too.
Inside, the A15 Bionic chipset is more than capable of burning through some fairly intensive tasks. It's the same chip found in the iPhone 14, for reference. The one used here features a 6-core CPU, with two performance cores and four efficiency cores, alongside a 5-core GPU, for crisp graphics.
12MP cameras adorn the front and rear of the device. In the case of the front camera, that also features Centre Stage. This technology can adapt the field of view if you move around on a video call, enabling you to always stay within the frame.
I love the iPad Mini. I think it's probably the most useful model in the current iPad line-up. It's small enough to have it's own use case, without treading on the toes of a MacBook. And while its size is similar to an iPhone 14 Pro Max, the iPadOS software ensures it works in its own way, so as to keep some distance there.