When it comes to men's grooming and hair care, there only seems to be two options: shave or trim. But what if you have sensitive skin or you simply don't like shaving? That's where Hoosh comes in.
Hoosh is a men's grooming brand that specialises in skin and hair care products, specifically hair removal creams and body scrubs. Founded in 2021, Hoosh is focused on body positivity, inclusivity and confidence. All their products are made in the UK using natural, cruelty-free and vegan ingredients.
Get 10% off at Hoosh with code T310
For men looking for an easy and smoother way to shave, the Hoosh In Shower Vegan Hair Removal Cream eliminates razor burn, rashes and ingrown hairs that are most commonly associated with shaving. Depending on your grooming preferences, you can use the Hoosh In Shower Vegan Hair Removal Cream on your arms, legs and chest.
With a focus on ethical and vegan ingredients, the Hoosh In Shower Vegan Hair Removal Cream is gentle and caring to the skin and incredibly easy to use if you're new to hair removal. The cream features natural ingredients like aloe vera, witch hazel water, chamomile, coconut oil and added Provitamin B5.
Men's grooming can be quite expensive, with some electric razors or shavers costing around £200 – and that's not even going into the cost of replacement blades and shaving foam. The In Shower Vegan Hair Removal Cream from Hoosh is super affordable at just £6.50. As a treat for T3 readers, Hoosh is offering 10% off your entire order with our exclusive discount code T310.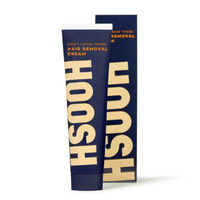 In Shower Vegan Hair Removal Cream: £6.50 at Hoosh
The In Shower Vegan Hair Removal Cream from Hoosh is changing the way men shave and groom their hair. To use, add a thick layer of cream to dry skin or hair and leave it on for 3-6 minutes. Remove it by using a cloth in a circular motion for the best results. After use, your skin should feel smooth and hairless – perfect for manscaping.
In addition to its hair removal product, Hoosh also makes body scrubs which have rejuvenating, anti-ageing and anti-inflammatory effects. You can use them after you've used the hair removal cream or on its own to remove dead skin and refresh your body.
For 10% off your Hoosh order, simply enter the code T310 at the checkout.