If you want a ridiculously cheap OLED TV (and who doesn't?), then have we got a deal for you. From March 23 2022 until March 29 2022, Box.co.uk is offering an extra 10% off the already massively discounted prices of LG TVs, when you use code LG10 at checkout. But remember that this offers ends on March 29 2022.
• Browse the range of LG TVs included in deal at Box.co.uk
You can look through there to find TVs of every size and price – seriously, all the best LG TVs are in there – but there are few options we want to especially call out.
Let's start with the 48-inch LG A1 OLED TV for just £646. With the extra 10% off, you can get that TV for just £646 now. Only a year ago, it was rare to find any of the best OLED TVs under £1000, and now you can get one for under £650.
If you want a bigger screen for super-cheap, then take a look at the 55-inch LG NanoCell NANO75 for £450. You get great HDR colours and contrast, advanced image processing, and huge amount of TV acreage for under £500.
Or why not go even bigger still? How about a 65-inch LG UP7500 for just £495. That's an incredible amount of TV for the money, bringing a real home cinema experience to your living room, and without breaking the £500 barrier.
For gamers on a budget, the top pick will be the 55-inch LG B1 OLED TV for just £900. It includes HDMI 2.1 inputs with 4K 120Hz support and VRR – perfect for next-gen gaming consoles.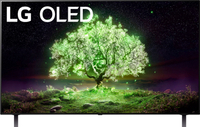 Get an extra 10% off LG TVs at Box.co.uk
Discover absolutely ridiculous prices on already discounted TVs, from great-value budget sets right up to elite OLEDs. Browse the whole range with this link, then use code LG10 at checkout. Don't forget this offer ends on March 29 2022, or while stocks of the TVs last!