Amazon has been producing some of the best entry and mid-range tablets for a while now, but this early Prime Day deal on its latest and greatest slate, the Fire Max 11 has made us sit up and take notice.
In my Fire Max 11 review I described it as "a standard bearer for a fully featured tablet at a fraction of the price" and now that price is even smaller. Right now you can get the Amazon Fire Max 11 tablet for £159 on Amazon. That's the cheapest it has ever been.
If you're looking for a starter tablet, one for the kids or a family device then you really can't beat the Fire Max 11.
Note: The £159 price is the version with ads, but if you can swing it, I'd spend the extra £10 for the ad-free model.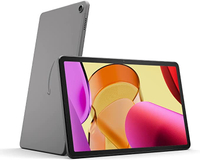 Amazon Fire Max 11 tablet: was £249 now 159 at Amazon
The biggest screen Amazon has ever put on a tablet coupled with suped-up performance and an impressive battery life, there's a lot to love about the Fire Max 11. The cameras too are much improved with 8MP shooters on the front and back.
The most obvious feature of the Fire Max 11 is its display, and rightly so. The 11" screen is the largest ever Amazon tablet display and a 2000 x 1200 resolution keeps things looking sharp.
It's not going to compete with tablets ten times the price but under the hood, you'll find that the Fire Max 11 is a bit of a secret powerhouse. Featuring 4GB of RAM (the same as the iPad 10th Gen), an octa-core processor and Wi-Fi 6 compatibility, it's surprisingly speedy.
Perhaps the only real problem with the Fire Max 11 is something it can't help. The Amazon operating system is a slick one, but it doesn't feature the same wealth of apps as usual Android tablets. You won't be able to access the Google Play Store from this device, but there are still plenty of recognisable apps like Netflix and Microsoft 365 to choose from. Just don't expect to find Chrome.
If you are planning on doing serious editing and work on your tablet, opt for something a bit pricier and more powerful, but as a casual device or family tablet, the Fire Max 11 is hard to beat at any price.
Don't forget to check out the best Prime Day tablet deals as well!