Whether you're gaming or just working from home, a good chair can be a lifesaver. They promote better posture and can offer an added layer of comfort for longer seated sessions.
You could opt to invest in one of the best office chairs, but personally, I'd go for a top gaming chair instead. They tend to have a bit more padding and more adjustment to get the setup just right for you.
My chair of choice right now is the Boulies Master Series gaming chair. It's a really great option, coming in at a better price point than big hitters like the SecretLab Titan Evo. And right now, that price is even better. In the Boulies Summer Sale, you can save £50 on the chair, snagging it for just £319.99!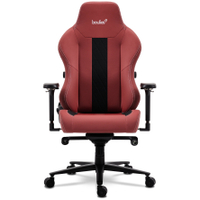 When I reviewed the Master Series chair, I was really impressed with the quality of the PU Leather. It's incredibly soft and does a great job of feeling like premium leather.
You'll find a decent range of adjustment on offer, too. The lumbar support has a decent range of motion, allowing you to really get it in the right position on your back. There's also a 4D armrest which should make it easy to position yourself correctly for comfort during work or play.
It comes in a range of finish options, meaning there's sure to be something for everyone. And, if you don't fancy a faux leather chair, there's even a range of options coated in a water repellent fabric.
There are also great deals to be had for those in Australia and the USA. In the same sale for those territories, you can grab the chair for AU$549 on Boulies.com.au, or $399.99 from Boulies.com.
If you're looking for a comfortable chair this Amazon Prime Day, this is likely to be one of the best deals you'll find. It's already my top pick when it comes to value-for-money – and with an extra price reduction, it's a no brainer!