Amazon Prime Day is now here and T3 is hard at work finding the best deals for you. However, one deal has particularly caught my eye recently, and it's surprisingly not on Amazon.
Cordless vacuum cleaners seem to be taking the market by storm at the moment, and let me tell you, you're missing out if you don't have one. It's also no secret that Dyson cordless vacs are some of the best out there, but finding them discounted can be difficult - probably because they are so good! Well, if you're in the market for a Dyson, then you need to switch your attention to John Lewis. There are a few Dysons that are currently amongst the Dyson Prime Day deals, but this is the best one currently out there. It's simply too good not to share!
What is the Dyson V15 Detect +?
The Dyson V15 Detect + Cordless Vacuum Cleaner (we've already reviewed it - that's how good it is) is Dyson's most powerful and intelligent vacuum cleaner. It uses a precise angled beam to make dust visible on hard floors, allowing you to clean every inch with ease.
It also has three power modes: Auto mode (intelligently adapts with the optimum balance of power and run time), Eco mode (provides longer run time for bigger cleans) and Boost mode which is engineered for short, intensive cleaning.
If you're in a particularly grimy corner, the Digital Motorbar cleaner head can ramp up the power to clean it all. It has built-in detangling technology that stops it from getting clogged with hair, and the piezo sensor counts and measures the dirt as you clean. This then gives you proof of the deep cleaning on the LCD display. Sounds almost futuristic, doesn't it?
What comes with the Dyson V15 Detect +?
The Dyson V15 Detect + comes with 2 cleaning tools. The first is the Combination Tool, featuring wide nozzle and brush, perfect for quick switching between cleaning and dusting tasks around your home or car. The second is the Crevice Tool, engineered for precise cleaning around tricky edges and into hard-to-reach narrow spaces.
Also included is a wall mounted docking station for grab-and-go storage, as well as a separate charger so you can plug it in anywhere.
How much is the Dyson V15 Detect +?
Now onto the good stuff! The Dyson V15 Detect + is currently on offer for £469.99 at John Lewis - that's £130 off and a saving of 22%!
For a bit of context, it's currently available at Curry's for £549.99! This model isn't even available on Amazon at the moment, but you can buy the Dyson V15 Detect Absolute for £649.00.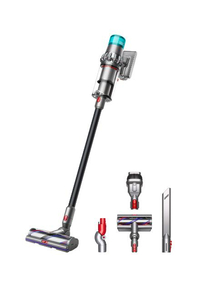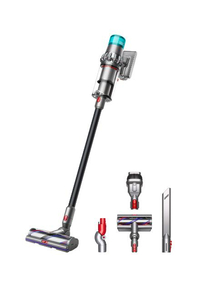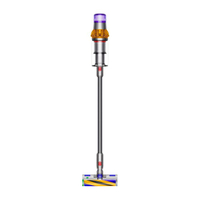 However, it's not entirely clear how long the Dyson V15 + will be discounted for, so grab one quick before it's too late!
Want to read more? Have a look at our guide on how you should be cleaning your vacuum cleaner!