Amazon Prime Day has officially hit and the bargains are coming in fast. We're busy collecting all of the best deals and let me tell you, we've found a goodun here.
When it comes to the best electric shavers, it's no secret that Philips are up there as one of the top brands. Whilst a lot of these brands haven't released any deals yet, Philips have given themselves a head start by announcing that some of their bestselling electric shavers are currently discounted by up to 60% off! We told you it was good!
Have a look to find out which electric shaver suits you the best, and how you can get your hands on one.
Oh before you start shopping, have a look at the six-step grooming routine that will set your morning up in the right way!
Philips Shaver Series 5000
With a massive 58% discount, this is a great deal for anyone after an electric shaver. With specialised SkinIQ technology, the shaver senses and adapts to your hair density for improved skin comfort. It has a fully flexible head and can turn 360° to adapt to any curve of your face, neck or jaw.
The set includes a Philips shaver, cleaning brush, integrated trimmer, travel case and a small, powerful cleaning pod that thoroughly cleans and lubricates your shaver in just 1 minute, making it 10 x more effective than cleaning with water.
Have a look: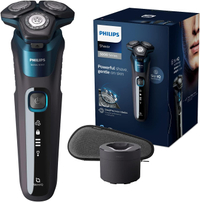 Philips Shaver Series 7000
Labelled as 'Amazon's Choice', the Philips Shaver Series 7000 is another great option. According to Philips, the Series 7000 is an improved version of the Series 5000, designed to glide over skin smoothly while offering an even closer shave. It has motion-sensing technology which tracks how you shave and guides you to a more efficient technique. Check out our review if you don't believe us!
The set includes a Philips shaver, charging stand, cleaning brush, integrated trimmer, travel case, and a cleaning pod.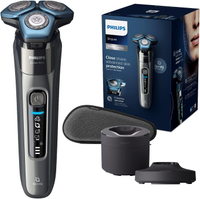 Philips Shaver Series 9000
The Phillips Shaver Series 9000 Prestige (we've reviewed this one too if you didn't know!) is certainly a step up from the 5000 and 7000. Well, the clue is in the name. The 9000 series offers an intelligent shave that means a short finish, tidy collection of hair and a sensitivity that suits all skin types.
It also comes with a wireless Qi Charging Pad for charging, click-on facial cleansing brush and beard styler to complete your look.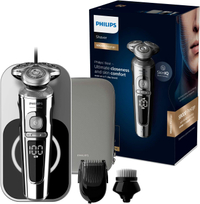 Not sure whether to go with Philips or Braun? Find out what the difference is between the two!