Many people say the Apple Watch Series 8 is the best smartwatch – and they aren't wrong. The latest and greatest Apple Watch added a bunch of new features to the impressive list of helpful health and fitness options already available on the watch, including crash detection, better sensors, medication tracking etc. And now, you can own this brilliant piece of tech for 20% less, thanks to Amazon – but you must act fast, as only a few are left in stock!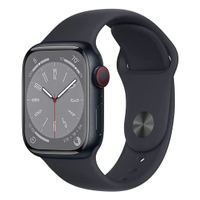 Apple Watch Series 8 [GPS, 45mm] Midnight Aluminum Case with Midnight Sport Band (Renewed): was $430, now $341 at Amazon
This pre-owned product has been professionally inspected, tested and cleaned by Amazon-qualified vendors. However, it's not certified by Apple. That said, it's backed by the 90-day Amazon Renewed Guarantee, which means if you're unsatisfied with your purchase, you return the product within ninety days of receipt of your original purchase for a full refund or replacement.
The Apple Watch Series 8 can be used for tracking sleep just as well as 'proper' sleep trackers, and the new-and-improved workout metrics and views bring the watch ever so close to being used for running training (see also: WatchOS 9.2 upgrade). It even has Track Running and Triathlon workout modes now!
There are new watch faces, better accessibility options, and Crash Detection (mentioned above). The Reminders and Calendar apps have also been redesigned to view and edit important tasks and events in more detail without using your iPhone.
The wearable can now help people take and log their medications via the Health app. If you have been diagnosed with atrial fibrillation, AFib History can estimate how frequently your heart is in AFib and track lifestyle factors that may influence your condition.
Battery life is still only 18 hours; however, thanks to the Low Power mode, you can extend it to around 24 hours with ease. "It's a premium smartwatch experience like no other," we concluded in our review.