Streaming devices always get great Black Friday deal discounts in November – and while Amazon's Fire TV Stick 4K initially had just £5 off its launc price, that's suddenly dropped to its lowest ever, bringing the Ultra-HD streaming stick in at just £34.99.
It's a great streaming device that supports Dolby Atmos, Dolby Vision, HDR10+ and standard high dynamic range video. It is, of course, 4K resolution capable so will output up to Ultra HD quality for gorgeous visuals. Check out the great deal below: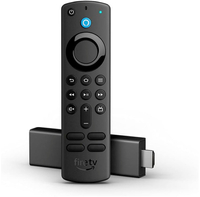 Amazon Fire TV Stick 4K: was £59.99, now £34.99 at Amazon
The Amazon Fire TV 4K gives you access to a whole host of streaming services, including Netflix, Disney+, Apple TV and, but of course, Amazon's own Prime Video service. It's super fast and features great wireless internet connectivity for seamless use and great visuals.
Granted, there is the newer Fire TV Stick 4K Max that's also available, but that device can't actually do anything actually different to this 'standard' Stick – the sole difference is its processor, meaning the Max is a little quicker when navigating around the software. Which is great, for sure, but it'll cost a chunk more too.
As a way to obtain many of the best streaming services available today I think Amazon's Fire TV Stick 4K is up there among the best and is a no-brainer deal for those who don't own a smart TV, but do have a spare HDMI socket in the back of their 'dumb' one. So long as you've got a decent wireless internet connection.
I've taken a look at third-party price-tracking site CamelCamelCamel, too, and this confirms that the Fire TV Stick 4K is at its lowest price of 2023 in this deal. The same can be said for the non-4K Fire TV Stick, too, if you don't need the Ultra-HD capability and want to save another £10! Choices, choices...