Apple's AirPods have become a standard bearer for true wireless earbuds and the Airpods Pro 2nd gen (Airpods Pro 2), launched in September last year, are some of the best of the bunch. Anyone on the market would have had to consider them before, but at this new lowest-ever price it's almost a no-brainer.
That's right the Apple AirPods Pro 2 are $199 at Amazon a great price for the successor to some of the best true wireless earbuds out there. These buds can cut out twice as much external noise as their predecessor (while the standard AirPods don't offer any noise cancelling), helping you live in the music and make your commute seem like your own private show.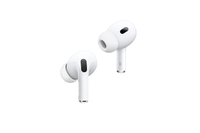 Apple AirPods Pro 2: was $249 now $199
If you can't hear your regular AirPods over life's loud noises, then the Active Noise Cancelling (ANC) of the Pro model is for you. The second-gen buds boast even more ANC, longer battery life and that signature Apple sound.
Of course, earbuds are nothing without quality audio and the AirPods Pro absolutely offers a step up from standard AirPods in this regard but the wireless earbuds market is not without its competition. Definitely check out the Sony WF-1000XM4, but at this price, the AirPods Pro 2 are a tempting proposition, especially when they are set to receive a significant free upgrade later this year.
Teased at WWDC 2023, iOS 17 will improve the device switching and Adaptive Audio experience of the AirPods Pro. For instance, talking will now lower the volume of your music while a personalized volume feature will optimize sound levels to your regular environment.
Those who live with buds in their ears will appreciate the inclusion of four different tip sizes and improved touch volume controls that mean you never have to have naked ears again. Battery life jumps from 4.5 hours in the original AirPods Pro to a much more useful 6 hours with a total of 30 hours stored in the case. There's good news for Apple Watch owners too, your charger will work with AirPods Pro 2 as well.