The current was announced in September 2015 and went on sale a month later - while it was technically the fourth generation model, it was the first significant update for the device for five years. Over a year on, and we're still waiting for a 4K-capable upgrade.
That doesn't mean Apple hasn't been busy in recent months, with a major released last year, but the time seems right for the fifth-generation box to appear. Is it going to show up at some point during 2017? Here's everything we think we know so far.
The story so far
The Apple TV was announced to the world on September 2006 - more then ten years ago now - with the working name of iTV (which was eventually dropped due to a certain British broadcaster). However, the first model didn't start shipping until March 2007.
There have been plenty of milestones since then: in January 2008 a software update meant the Apple TV could operate as a standalone device for the first time, then a much smaller, second-generation model appeared in September 2010, this time running a modified version of iOS and cutting the amount of internal storage space.
The third-generation, announced in March 2012, didn't change anything about the external design of the Apple TV but did bump up the internal specs slightly.
Then, just when we thought Apple had forgotten all about the Apple TV, showed up in September 2015. It was a big upgrade too, with a new touch remote, Siri integration and a brand new tvOS operating system. For the first time, developers could write apps specifically for the Apple TV.
Rumoured new features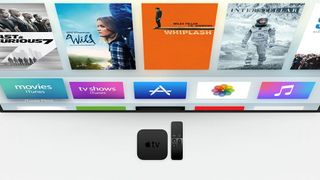 There was one glaring omission from the feature-set of the fourth-generation Apple TV: support for 4K.
The next-generation video format was already appearing on television sets by the end of 2015 and since then it's become more and more ubiquitous. It's now pretty much standard above a certain size, which means the fourth-gen Apple TV is rapidly starting to show its age.
Even more pertinently for the Apple TV, 4K is sneaking into catch-up TV services and apps like . If a fifth-generation model is in the works, 4K support must surely be the headline feature for the new box.
We know it can't be added via a software update because the HDMI port on the fourth-gen Apple TV isn't 4K-capable. However, most of the other changes are likely to be on the software side, of which more below.
The device might get a little smaller, and a little faster, but the touch remote was only just introduced in the last iteration, so we wouldn't expect any big changes in terms of hardware next time around - apart from that all-important 4K update.
Potential launch dates
Eagle-eyed Apple watchers spotted an Apple TV-style device getting US regulatory approval back in September 2016, and then the third-generation model was pulled from sale a month later, both signs that a new model could be on the way.
With the now out in the wild and the higher resolution supported on a bunch of other media streaming boxes as well, Apple will want to make a move sooner rather than later, although big Apple TV upgrades usually arrive in September.
There are a few points through the year when we might see a fifth-generation box: Apple has been known for making , as well as during its Worldwide Developers Conference (WWDC) in June.
As we've mentioned though, September is the most likely time of the year - which means the fifth-gen Apple TV would be turning up alongside the new iPhones.
What does seem certain is that a new model is on the way: Apple CEO Tim Cook told investors that the current hardware and software was "building a foundation" for the company's future plans in the area.
Future tvOS updates
Let's not forget tvOS either: there really isn't all that much to the Apple TV hardware, and so software updates could be where the biggest improvements are made over the next 12 months - aside from 4K support, which will have to be a physical upgrade.
Apple now seems keen on updating all of its various software OSes - macOS, iOS, , tvOS - at the same time, and again WWDC in the summer is the event to look out for.
This year we got a single sign-on mode, plus (for US users) a global search tool to help you find any programme you want. It's a nice idea but without the support of the app makers - principally Netflix - it's always going to look a bit inadequate.
Siri was introduced to the Apple TV in 2016 and we'd expect the smart assistant to become more and more important in the future. It's also likely that Apple will continue to make it easier to use all of its hardware products together.
Stay tuned for more in the smart home space from the Apple TV too. With Google bringing out its own version of the Amazon Echo and other companies like Microsoft rumoured to be following suit, it would make sense for Apple to have something similar - and with Siri on the Apple TV it's already halfway there.