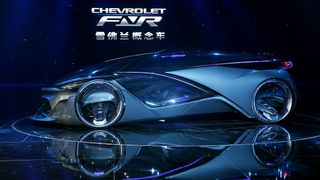 Intro
Chevrolet wowed the crowds of the Shanghai auto show this week when it dropped the silk sheet on a fully autonomous vehicle that's a futuristic blend of Tron Light Cycle and Blade Runner Spinner. The next six images will make you lust for it.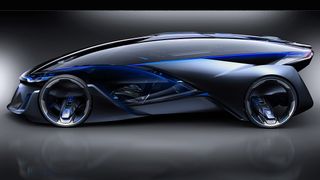 Self-driving and electric-powered
The FNR Concept is the American marque's vision of a fully autonomous future, where cars gleefully zoom around cities, producing nothing in the way of emissions at the tailpipe and allowing its occupants to update their Twitter status rather than deal with the morning traffic.
Powered by an electric motor in each wheel, the FNR Concept breaks ground by featuring a magnetic hubless wheel system.
The lack of a traditional wheel hub would not only reduce the amount of mechanical loss through friction, it would also reduce the additional power required to overcome radial torque of convectional hub driven wheels, as its power is driven directly to the inside face of the rotating magnetised road wheel.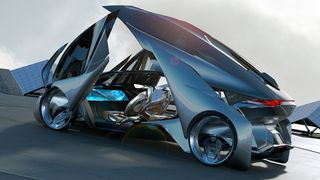 Open door policy
Little has been said about the powertrain's specific output but the innovative wheel system would mean it is one of the most efficient electric cars on the road and likely pretty pokey, considering all four rims are driven by a modern electric motor. Chevrolet has also packed the concept with intelligent technologies. Oh, and these crazy, insect-wing doors.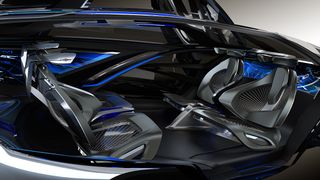 It drives itself
An iris recognition system unlocks and starts the vehicle, while advanced sensors and roof-mounted radar technology will map out the road ahead and allow for fully autonomous driving modes. Once selected, passengers can swivel 180 degrees to face the rear seats and enjoy a good old chin-wag, plus numerous connected services through a built-in Wi-Fi network.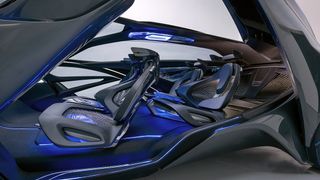 You can also drive it yourself
The driver can take over steering duties at any moment via gesture control, with the seats returning to their more traditional configuration.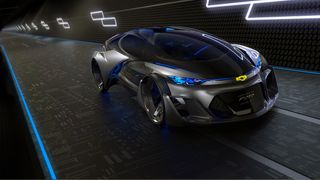 Wireless charging
Once the batteries have been drained, owners can top up the FNR Concept using a wireless charge system. This would likely involve an inductive charging network that sees the car autonomously direct itself over an electromagnetic charging plate and top up the batteries without the need for cumbersome wires. Perhaps in a vaguely futuristic tunnel such as this one.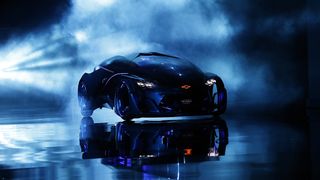 Of course, this is all rather "theoretical" tech at the moment. However, Chevy's recent unveiling of the updated Volt and the Bolt Concept, which boasts an estimated range of over 200 miles thanks to lightweight components, aerodynamic design and the latest battery technology,and the adoption of next-gen autonomous tech by brands from Volvo to Audi, suggests that this is something more than sci-fi pie in the sky, guy.