If you're like me, life always feels a little better when it's a good hair day. Some of us are committed to using the best hair straighteners or hair curlers, and some simply rely on giving it a good wash and letting the breeze do its magic. Either way, having nicely styled hair is a great feeling.
When it comes to the best hair dryers, they are mostly perceived at only being able to do one thing. Yes, their main task is obviously to dry your hair, but recent years have seen some hair dryers being able to do so much more. That is why I was so eager to give the Laifen SE a try, especially as I'd heard such great things.
Laifen is an up-and-coming brand in terms of hair tech, but they've already established a nice range of products. Whilst each of the hair dryers they've released look similar, there are large design differences between each model, providing an option for everyone. The Laifen SE is one of the more affordable (and prettier!) models but it doesn't mean its quality is any less. Keep reading to find out what my thoughts were...
Laifen SE Review: Price and availability
The Laifen SE is available on their website for an RRP of $149.99 (£120.99) but it's currently reduced to $126.99 (£102.25) for the time being.
Another great pieces of news is that it's available in four attractive colours: lilac, white, light blue and baby pink. I managed to get my hands on a light blue one and it's even prettier in person!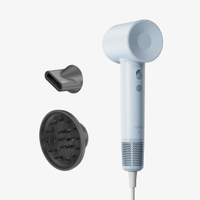 Laifen SE Review: Unboxing and set up
Apart from it resembling an unusually large iPhone box, unboxing the Laifen SE was a pleasant and easy experience. The hair dryer itself came in one part which is always very welcomed, and the accessories were packaged underneath. There was a large amount of unnecessary packaging, but this was made slightly better by the fact it was cardboard.
Alongside the main body, there was a Diffuser Nozzle as well as a Standard Nozzle. Both the hair dryer and the nozzles are made from a smooth, matte material which felt nice to hold, but it was disappointing to see that they didn't match the main body. I think the hair dryer would've looked a little more sleek if they were blue as well, but it doesn't take away from the design quality. They were also magnetic, meaning they can just click onto the main body without any hand movement needed. Another thing I was happy to see was that the lead was a good length. There really is nothing worse when your plug is across the room and getting ready turns into some kind of scientific circuit experiment.
The User Manual was also a good addition, showing some useful tips on how to clean and maintain the Laifen SE.
Laifen SE Review: Design and features
There are some pretty impressive design features attached to the Laifen SE, and I was really excited to see that these included hair-care technology. The hair dryer firstly has an ionic generator that produces 200 million / cm3 of ionic in order to stabilise any static electricity, ensuring you have sleek finish each time you dry your hair. It also has a Smart Thermo-control system which measures the airflow temperature over 50 times per second to protect your hair from heat damage. As I have long and coloured hair, I often try to limit the amount of heat I apply, so any products that aim to help this get an immediate tick from me.
The Laifen SE also focuses on reducing as much noise as possible. The airflow (top) button allows you to control this, giving you three different options. Whilst the quietest setting also omits the lowest air flow, meaning it'll take you slightly longer to dry your hair, it means you won't be waking anyone up in the mornings!
There is also a rather snazzy hot-cold air circulation button (bottom) which allows you to control the heat setting. There is also an option that can make the hair dryer switch between hot and cold air every two seconds, again helping the risk of heat damage. This can be activated by pressing the hot-cold air circulation button for one second.
I was also happy to see that two different nozzles were included, especially as not all of Laifen's range have this. The first is the Standard Nozzle which is perfect for straight hair. You can either use it with a flat brush to achieve a sleek and frizz-free look, or go for a barrel brush if you're aiming for a blow dry style.
I was also really impressed that a diffuser was included. These are particularly great for curly hair, but also if you have wavy hair. If I were to get out of the shower and let my hair dry naturally, my usual straight hair will become slightly wavy. When I use a diffuser, my hair also goes wavy but the heat helps it last a little longer, so it's really nice to have the two options if I fancy a change from straight.
The Laifen SE also has a digital motor that spins up to 105,000 rpm, allowing it to dry your hair nice and fast. I was a little sceptical to try this out as I do have long hair which takes a while to dry, but I was excited to give it a go.
Laifen SE Review: Performance
Overall, I was impressed with how the Laifen SE performed. I reviewed it over the course of one week, and really enjoyed the experience each time I used it.
The first thing I instantly loved about the hair dryer was the LED temperature indicator. This showed you what temperature the hair dryer was working at, meaning you didn't have to try and work it out. The only thing I would've changed was that the 'cold' option operated at room temperature, meaning it was still slightly warm. I usually love giving my hair a cold blast of air after styling it as it sets it in place, but I didn't think the cold option on the Laifen SE was able to do this.
I was also really impressed by the nozzles. Both worked really well for me and I loved the way they just clicked via magnets onto the main body, making it really easy to switch between the two if needed. My hair adjusted better to the Standard Nozzle, but that's just because styling it straight is the usual for me. The Diffuser Nozzle did work well but I preferred the style that the Standard Nozzle gave.
After a week of use, I was happy to see that my hair didn't feel dry or frazzled at all. Hair care technology is important to me, so it's probably my favourite feature out of them all. I reviewed the Revamp iGen Progloss Cordless Ceramic Hair Straightener recently which infused your hair with oils each time you used it, and it made such a huge difference. Features like these in hair styling products really have an effect and I believe it's important that companies prioritise that side of things as well. Big thumbs up from me!
One thing that I wasn't too sure about was the amount of time that the Laifen SE took to dry my hair. Now, I do realise that I have a long hair and it takes slightly longer to dry than the average person's, but I have used other hair dryers that are quicker than the Laifen SE. I don't think this is a huge design flaw, but it was a little disappointing when it's explicitly labelled as a fast-drying product. If you've got short or shoulder-length hair, then I think you'd get on really well with this product. If yours is slightly longer like mine, then you may want to weigh up the pros and cons and see if it's worth it.
Laifen SE Review: Verdict
Overall, I was highly impressed with the Laifen SE. It's an attractive hair dryer with some nicely advanced features, especially to do with hair care. The drying speed and mismatching accessories take it down from a 5-star to a 4-star, but the overall design and performance of the product is really good. For the price, it's also a nice alternative to some pricier options on the market.
Laifen SE Review: Alternatives to consider
The obvious alternative design-wise to the Laifen SE is the Dyson Supersonic hair dryer. Whilst it comes in a little pricier at £299.99, the design features are very similar. Like the Laifen, the Dyson Supersonic has an array of speeds and temperatures, as well as magnetic click-on styling attachments. It also works against extreme heat, so it's instantly kinder to your hair.
Another alternative would be the Revamp Progloss Hydro Shield X Shine Hair Dryer. For only £119.99, it's an attractive and lightweight dryer that's easy to use and like the Laifen SE, it puts hair care and protection at the top of its priorities. Its smart heat sensor works nicely to prevent damage and the Progloss oils work to give hair a shine and lock in its natural moisture.