I'll always remember my first pair of hair straighteners. I was 11 years old and my mother kindly donated her travel pair to me (well, only because she'd had a rather snazzy upgrade) - they folded down and were a strange purple colour but I loved them with all my heart.
Since then, hair straighteners have always been a main part of my routine due to my hair type. If I wash and blow-dry my hair, it'll stay straight and smooth for at least three days. If I wash it and let it air dry, I'll be dealing with a frizzy mess for the foreseeable future. I therefore know if I've got a good pair of hair straighteners based on how well they conceal that frizz. Whether they smooth and de-frizz my hair for a few hours or a few days, it really is the real test.
There are many wonderful options out there (have a look at our 2023 guide to the best straighteners if you don't believe me!) but the Revamp iGen Progloss Cordless Ceramic Hair Straightener caught my attention when I first came across it. It's no secret that its cordless design and apparent hair infusing oils are unique to the model, and I hadn't really heard of a straightener quite like it. I knew that I had to find out what it was about, and here is what I thought:
Revamp iGen Progloss Hair Straightener review: price and availability
You can find the Revamp iGen Progloss Hair Straightener on their website for an RRP of £199.99. However, they're currently reduced to £149.99! Hurry though, it's not entirely clear how long this offer will last!
Purchasing them on the Revamp website will also give you the benefit of free returns. If you're not entirely happy with your purchase, the straightener can be returned within 30 days of receipt for a full refund.
You can also the the straightener on Sephora and Very for £149.99!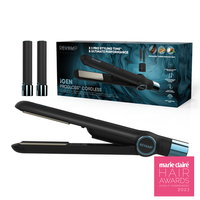 Revamp iGen Progloss Hair Straightener review: unboxing and set-up
The Revamp iGen Progloss Hair Straightener unboxing experience was pleasant enough. It has a very sleek look, opening up to the reveal the straightener itself (with one battery inside) as well as the spare battery. The limited packaging is also appealing, and if you're into reusing boxes for other purposes, then this is a great option.
The rest of the box opened up to the charging base, EU and UK charging adaptors, a charging cable and a spare, a heat-proof sleeve as well as the user guide. The different charging equipment is fantastic as it means you won't have to worry about buying any additional adaptors for travelling. It's also great to have a spare cable that can be attached to any USB plug in case you want to keep the main one at home - a really nice touch!
Before using, I had to charge the straightener for about 2 hours until the light went green. The user guide mentions that 3.5 hours of charging gives you 40 minutes of use so there must have been a little bit of charge in the straightener before I set it up. All I had to do was click the UK adaptor into the plug and pop it in the wall, followed by plugging it into the straightener itself which is holding one of the batteries.
The charging base is also a nice addition as it enables you to charge both batteries at the same time when the straightener isn't in use. This is great if you're going away for a few days as you can just pop the straightener into your bag alongside the spare battery - no charging equipment needed! However, the user guide mentions that you have to make sure to unplug the charging base when using the straightener as it will otherwise automatically turn off.
You simply just remove or insert the batteries into the straightener by twisting the base. It's as easy as that!
Revamp iGen Progloss Hair Straightener review: design and features
The one thing that caught my attention with the Revamp iGen Progloss Hair Straightener is their oil infusing feature. This features across the Revamp range, but it essentially infuses your hair with a nourishing blend of keratin, argan and coconut oil to keep it smooth and sleek. Anyone who uses regular heat on their hair knows how drying it can be, so the fact this straightener moisturises your hair whilst applying heat is a huge plus.
Another huge benefit is the fact it's a cordless straightener. I've already mentioned how easy this makes it to just chuck the device in your bag so you can sort your hair out on the go, but the idea of not getting tangled up is also hugely appealing. Although I'm not very good at it, a lot of people also curl their hair using a straightener. It involves a lot of different angles and hand movements (very complicated!) that can be difficult when the straightener is attached at the wall.
The straightener also as a 'Smart Flight Safe Mode' that has to be switched off before they can be used. This safety mode is a unique feature to haircare products and I think it's brilliant. It would also be useful if you were carrying your straightener around in your bag and wanted to avoid it turning on accidentally. The device also has an 'Auto Shut-off' mode which allows it to turn itself off after 15 minutes of not being used. Whilst this shouldn't be used as a substitute for turning it off, it gives peace of mind knowing it's there.
As well as those three things, it's also a very attractive looking device. I've come a long way from my purple, fold down straighteners and this is certainly one of the nicer models I've seen. The body is a sleek matte black with small metallic blue accents. It's also extremely lightweight even with the battery inside. It's looking very good so far!
Revamp iGen Progloss Hair Straightener review: performance
Once the Revamp iGen Progloss Hair Straightener was turned on, it took roughly one minute for it to heat up. It automatically heats up on the default temperature (190 degrees) but there's an option to put it down to 160 degrees or up to 230 degrees. There's also a small light which stops flashing once they are ready to use.
I began using the straightener on my hair which was clean but slightly frizzy. I started off with 190 degrees heat which, as soon as I started gliding it over my hair, smoothened it out effortlessly. There was no smoking or crackling sounds (if you know, you know) and it was just a really pleasant experience all round. Once I was finished, I could also smell the nourishing oils on my hair which was really nice.
I was heading into work the next day so I went over my hair that morning with the 160 degrees heat level. This gave my hair a really nice refresh, removing any frizz that came about after a good night's sleep. It surprisingly stayed smooth all day which I was happy about and my hair felt sleeker and healthier in general. Each time I used it, the straightener cooled down extremely fast which is a reassuring factor.
I'll be honest, I have avoided the 230 degrees heat level as I'm slightly reluctant to put that much heat on my hair. However, if your hair works well with heat protective products and you don't think it would cause too much damage, then it can definitely be an option. It's always good to know it's there, I suppose!
Revamp iGen Progloss Hair Straightener review: verdict
Overall, I'm extremely impressed with the Revamp iGen Progloss Hair Straightener. Alongside the wonderful safety features, convenient features and aesthetic design, it keeps your hair smooth and sleek all day without having to refresh it. What's even better is that you could refresh it if you wanted to due to how easy the cordless design is, but this doesn't mean you need to. I generally think this is a wonderful product and 100% worth the money that you pay for it.
Revamp iGen Progloss Hair Straightener review: alternatives to consider
One good alternative to the Revamp iGen Progloss Hair Straightener is the Hot Tools Black Gold Dual Plate Salon Straightener. It's slightly cheaper at £129.99 but still delivers incredible results. The innovative dual plates with variable temperature control means you can straighten your hair twice as fast while also reducing hair damage. Just like the Revamp iGen Progloss, hair is left sleek, shiny, and frizz-free. For more information, read our 5-star review on the Hot Tools Black Gold Dual Plate Salon Straightener.
If you like the cordless design of the Revamp iGen Progloss Hair Straightener, then have a look at the GHD Unplugged Hair Straightener. They have very similar features and actually have a shorter charging time of just under 2 hours. However, for just under £300, we'd still say that the Revamp iGen Progloss Hair Straightener is better. Have a look at our GHD Unplugged review if you want to find out for yourself!
Interested in other haircare options? Why don't you have a look at our 2023 guides to the best straightening hairbrush or best hair curlers?