I've been lucky enough to receive the Samsung Galaxy S23 Ultra ahead of its 17 February release date. And true to form with my ongoing love-hate relationship with this handset, I've just found out about some 'secret' Galaxy S23 colour options.
When Samsung ran its Galaxy Unpacked event on 1 February to introduce its new range of fancy Galaxy flagships, I was generally impressed by what was on show. A more unified design across the family. A major camera upgrade for the Ultra. Gimme, gimme, gimme.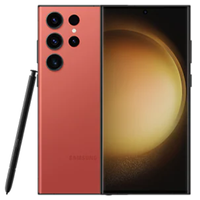 Samsung Galaxy S23 Ultra: from £34.70 per month at Samsung
Pre-order the Samsung Galaxy S23 Ultra directly at Samsung and you'll get double the storage at no extra cost. Samsung's store is the only place to get the special colour options and an exclusive 1TB option too.
But the colours? Well, there's black, green, lavender, cream. That was it, right? Wasn't it? Well, no, apparently not. Why the heck did nobody tell me about the red Samsung Galaxy S23? Or the lime version? Or the blue? That's the kind of sunshine vibrancy I want in my life – but you can only pre-order such handsets on Samsung.com directly.
As I wrote in my original Galaxy S23 early verdict review, the four main colours – the ones that all UK networks will offer, i.e. black, green, lavender, cream – are somewhat 'subdued' to say the least. Maybe lavender and cream can be excluded, but there's no real pop to the green. I'm not even kidding: check out my picture of the handset below, it's downright demure:
I know, I know, you're probably just gonna throw that brand new S23 into one of the best cases and never really think about the colour of it again. Except I don't work like that. Daresay I live dangerously with my phones, letting them bare all, no case in sight. So the colour options are important to me.
And I've got to say it: that red colour for the Samsung Galaxy S23 range looks gorgeous. The green? It just looks a little bit sad, really, like it needs a warm-hued best friend to cheer it up and add some colour to its life (that's where the lime option comes in, I s'pose). I do rather like the Lavender though, as shot for my Galaxy S23 Ultra early verdict review:
But the thing that gets me is Samsung is barely talking about these 'secret' four handset colour options. The image up top of page – with the red, blue, lime and graphite options – I sourced from Samsung's US page. Sure, you get the full spectrum of colour options when pre-ordering on Samsung's UK page too, but it's just less represented.
So if you're thinking of buying a Samsung Galaxy S23, do have a good dig through Samsung's site when pre-ordering, as I find the red, blue and lime colour options to be far and away the most exciting options for this Android flagship series...