Formula One comes to Silverstone this weekend for the British Grand Prix, and Prime Day starts on the 11th of July, but of course, In typical racing fashion, the latest F1 PS5 game F1 23 has made it first to the sales start line.
You can grab F1 23 on PS5 for £61.69 on Amazon, that's an impressive 12% off, and when you consider it only launched on the 16th of June it's a great price. If you fancy taking to the track and competing wheel to wheel with the likes of Lewis Hamilton and Max Verstappen yourself, then this is the most up-to-date and realistic way to do it.
Better still, if you've always wanted to run your own team (good luck bettering my team name - Vroom Vroom Motorsport) the fully-fledged career mode offers an immersive simulated experience across multiple seasons with the chance to become an F1 Legend.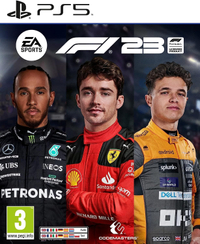 F1 23 (PS5): was £69.99 now £61.69 at Amazon
The official Formula One game features all your favourite tracks, drivers and teams and even gives you the chance to join the grid with your own team! Compete with the best online or start a co-op career with a friend.
With all the licensed cars, teams and tracks (including the brand-new Las Vegas circuit) from the current season, this is as close as you'll likely get to joining the greatest motorsport show on earth.
On the PS5, the game's graphics are really exceptional and the haptic feedback of the DualSense controller means you can really feel it when you catch a kerb or kiss the apex perfectly.

I love F1, but I am terrible at this game, and that's ok. A friend and I spend every Saturday morning in our co-op career mode and no other racing game offers me the level of satisfaction when I bring home a back-of-the-pack Williams to an 8th-placed finish. It takes dedication to get good, and that's why I love it so much. See you online, try and avoid me.