You don't need exotic exercises to build muscle or fancy weight machines. In fact, one of the best ways you can do this is using a set of dumbbells and doing simple strength exercises, consistently. This 20 minute workout offers just that and is ideal for those looking to start their strength training journey (or if you fancy a switch up from your usual upper body session). Just have your dumbbells at the ready and let's get to it!
As well as building a more defined physique, lifting weights and developing muscle is also beneficial for those trying to lose weight, as this style of training can boost your metabolism. According to Everyday Active: "Muscle tissue is metabolically active. This means it burns more calories at rest than fat tissue." While another study has shown that your Excess Post-Exercise Oxygen Consumption (basically, the calories that you continue to burn after you've finished your workout) is higher with strength training than aerobic exercise.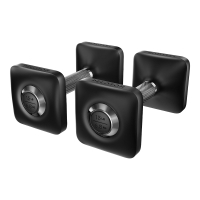 Peloton Dumbbells: were $55, now $38.50 at Amazon
Peloton's dumbbells feature a premium urethane finish, non-slip handles and ergonomic design. The dumbbells come in pairs and are available in sizes 5 to 30lb. Most are on offer for 30% off as part of Amazon's Black Friday sale – don't miss out!
For this workout you've got five simple exercises to get through, some requiring two dumbbells and others, just one. You'll do 12 to 15 reps of each exercise, resting for 30 to 40 second in between each. Make sure you have something soft beneath you, like an exercise mat, as a couple of the exercises are floor-based. You're aiming to complete three to four rounds of the exercises in total. Ready? Here's your workout:
Elevated chest press (do this in a glute bridge position)
Bent over row
Kneeling alternating Arnold press
Kneeling bicep curls
Lying down tricep extension
We hope you enjoyed that workout and that it was a nice introduction to upper body strength training. There's plenty more beginner-friendly workouts here on T3 too. Why not give this bodyweight upper body workout a go next? You may not need any weights for it, but it's still great for developing strength and muscle. If, however, you feel it's time for leg day, here's a beginner leg workout that targets your quads using a pair of dumbbells. If it's your entire lower body you want to work on though, try this five-move dumbbell workout that targets your quads, calves and glutes.