Games controller manufacturer 8BitDo has announced a small device that adds support for modern controllers to an old PlayStation console.
The 8BitDo Retro Receiver for PS works with PSOne (original PlayStation) and PlayStation 2 and enables you to use a PS5 DualSense or DualSense Edge controller and even an Xbox Wireless Controller to play games.
It essentially adds Bluetooth connectivity to consoles that weren't designed to support wireless formats. This therefore means that any of 8BitDo's own Bluetooth controllers will work, alongside any PlayStation, Xbox or Nintendo controller that supports Bluetooth.
The receiver plugs into one of the proprietary DualShock ports on the first PlayStation or PS2 and has a pairing button on the front.
It costs $24.99 and is available from 8BitDo's own website and (soon) Amazon.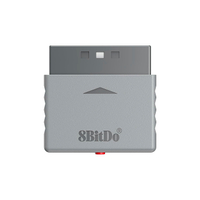 Plug the 8BitDo into a PSOne or PS2 and it adds wireless controller support, including the PS5 DualSense and latest Xbox Wireless Controllers.
What is 8BitDo?
8BitDo is an accessory maker that predominantly focuses on retro gaming. It has a large product selection of controllers and adapters that ape classic joypads of yesteryear – including the SNES and Nintendo Entertainment System.
It has recently also branched out into premium Bluetooth controllers though, for the Nintendo Switch and mobile gaming. We particularly like the 8BitDo Ultimate Controller, which can be set to wirelessly work with either Bluetooth or 2.4GHz Wi-Fi.
Of course, if you plan to dig your old original PlayStation out from a cupboard or the loft, you may need to consider a video adapter too. It outputs video via a composite RCA cable, which many new flatpanel TVs do not support.
However, you can either buy an RCA to HDMI adapter or, even, a Sony A/V Multi-out HDMI cable. They're not that expensive although you shouldn't expect any video upscaling – so you'll get the original resolution showing in 4:3 on your 16:9 TV. And, the larger the TV, the worse it'll look, to be honest.
That's why many retro gamers prefer to purchase an old CRT television from somewhere like eBay and use that instead. That way, you can keep the old cabling system and simply add wireless controller connectivity.